• The Chadds Ford Business Association will have its February meeting on Thursday, Feb. 6 at Crozer Keystone Brinton Lake. The guest speaker will be Dr. Linwood Haith, the director of Crozer's Nathan Speare Regional Burn Treatment Center. Networking begins at 11:45 a.m. with luncheon at noon. Cost is $25 for CFBA members, $35 for nonmembers. To pay online, or to RSVP to pay at the door, go here.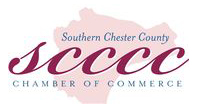 • It's networking at noon for the Southern Chester County Chamber of Commerce on Thursday, Jan. 30 at Hartfeld National Golf Course. The event is from 11:30 a.m. to 1:30 p.m. For more information or to register, go here.
• Historic Kennett Square announced the appointment of Bo Wright as its new executive director, effective Jan. 27. According to the announcement, Wright brings a wealth of experience and insight in the areas of town planning, place-making, communications, and economic development from his position as Development Director for Strong Towns, a national media and advocacy organization leading a movement of people who are working to make their communities strong and resilient.
• The Delaware Center for Horticulture and the Delaware Nursery and Landscape Association will be holding a job fair where DNLA-member businesses and employers will be looking for qualified workers for the 2020 season. The job fair will be Monday, Jan. 27, from 4-7 p.m. at the DCH headquarters, 1810 North Dupont Street in Wilmington. DCH will also be accepting applications for its 2020 Branches to Chances Green Jobs Training Program for unemployed, underemployed, and/or previously incarcerated men and women in Delaware. For more information on BtC, visit thedch.org.
See Contributors Page http://chaddsfordlive.com/writers/
Comments
comments