Guests snapped pictures on their cellphones, servers carrying trays with exotic hors d'oevres slipped through groups of excitedly chatting people, refreshment bars were at every turn, gourmet chefs at buffet stations served a variety of unique dishes, and heads swiveled in all directions looking at breathtaking floral displays. The event was the cocktail reception of Blooms & Bamboo held at Longwood Gardens Wednesday evening, October 2, 2019. Drifts of English and Japanese floated through the air, with everyone smiling in the same language. And, there was plenty to smile about.
Paul B. Redman, President & Chief Executive Officer of Longwood Gardens all offered welcoming remarks: "This exhibition was six years in the making. Using our Conservatory as the inspiration and the canvas, Headmaster Akane Teshigahara, the fourth generation "lemoto" of the Sogetsu School, has created an imaginative and never-before-seen visual experience." He continued, "Combined with our staff's horticulture expertise for growing chrysanthemums in traditional Asian-inspired forms, Blooms & Bamboo promises to be an exquisite display that celebrates these two Japanese horticultural art forms in a way only Longwood can."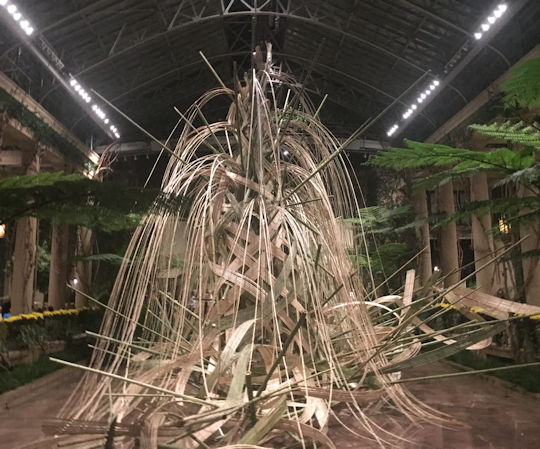 Twenty-three floral arrangements, created by local Sogetsu chapter members and students from Japan are displayed throughout the East and Main Conservatories, as well as Wood and Metal Sculpture, c. 1960, created by Sogetsu School of Ikebana's founder, Sofu Teshigahara.
Two large-scale displays of bamboo and natural elements, installed in Longwood's Conservatory by staff and volunteers, as well as thousands of blooming chrysanthemums trained into imaginative forms and shapes by Longwood's own horticulture masters are now on view.
Chadds Ford resident and Longwood volunteer flower arranger Melissa Bullitt says, "I was grateful for the opportunity to work on this international team effort. We wore hard hats, gloves and safety goggles, which is not what I typically wear as a Longwood volunteer!" She continues, "Getting to work on building the two tall bamboo towers was an interesting change in perspective; something I had never experienced before. Being inside the arrangement connected me to the natural elements in the design. I could feel the line and movement of the bamboo in my body, not just see it with my eyes."
The "you've-got-to-see-it-to-believe-it" archway of six hundred and thirty-five rods of bamboo that reaches heights of fifteen feet, is "the place" to pose for photos and/or to walk under. It is one of two large bamboo installations built by Tokyo's Sogetsu atelier team. The other equally stunning display is in the Fern Floor of Longwood's Conservatory. "Although I have created bamboo installations in a variety of styles in Japan and around the world for more than 20 years, the two installations planned for Longwood will be the greatest and finest of all, both in terms of scale and bamboo manipulation techniques," Teshigahara explained.
Follow the step-by-step installation on Longwood's blog. The Making of Blooms & Bamboo includes text by Katie Mobley and jaw-dropping installation images captured by Hank Davis, Zachary Longacre, Matthew van Horne, and Claire Brewer.
The Sogetsu School is "avant-garde" Ikebana and focuses on free expression. It promises that Ikebana can be enjoyed anytime, anywhere, by anyone. The Sogetsu philosophy encourages Ikebana students to be individual and imaginative and aim for a contemporary effect that is refreshing and inspirational. In 1927, the school's innovative founder, Sofu Teshigahara, began introducing all kinds of new materials such as plastic, plaster, and steel to Ikebana's palette of plants only.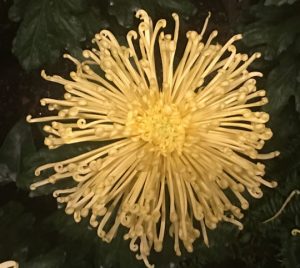 Blooms & Bamboo, an autumn burst of colorful enchantment, lasts only until November 17, so plan your visit now. Free guided tours of the chrysanthemum and Ikebana Sogetsu display are every Tuesdays & Thursday at 11:30 am and 12:30 pm. Blooms & Bamboo is free with Gardens admission. For complete details and information,  visit longwoodgardens.org/blooms-bamboo.
Longwood Gardens, purchased by industrialist Pierre du Pont (1870-1954) in 1906, is today one of the world's great horticultural displays, encompassing 1,100 acres of dazzling gardens, woodlands, meadows, fountains, 10,010-pipe Aeolian organ, and 4.5-acre conservatory. Longwood continues the mission set forth by Mr. du Pont to inspire people through excellence in garden design, horticulture, education and the performing arts, through programming that includes exhibitions, musical performances by leading artists, renowned horticulture education programs, horticulture research, environmental stewardship and community engagement. Open daily, Longwood is one of more than 30 gardens in the Philadelphia region known as America's Garden Capital. For more information, visit longwoodgardens.org.

Lora has a passion for art, gardening, yoga, music and dancing. She continues to research the life of locally born abolitionist and 1998 National Women's Hall of Fame inductee Mary Ann Shadd Cary. She is a dedicated community volunteer, working with the American Association of University Women, Wilmington, DE branch (programs chair), Chadds Ford Historical Society (former board member) and Brandywine Conservancy & Museum of Art. Lora lives in Birmingham Township with her husband Bill and son Brad. Daughter Erika lives in Pittsburgh with husband Bob and baby Wilhelmina. She is a former French, Spanish and ESL teacher, bilingual life insurance underwriter and public relations coordinator for Delaware Art Museum and Brandywine Conservancy & Museum of Art.
Comments
comments