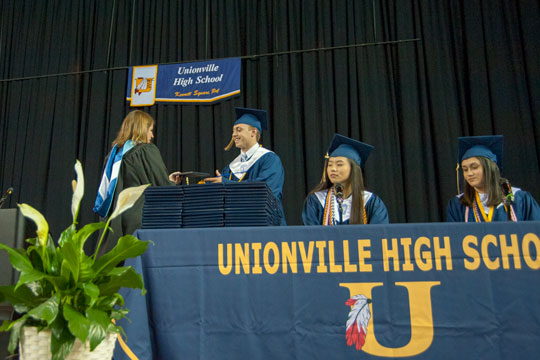 Gratitude and growth were the messages imparted to the almost 360 members of Unionville High School's Class of 2018.
Principal Jimmy Conley told graduates that saying thank you has almost become a lost art, but class members should learn the art of gratitude. He lamented on the lost art, saying that in the social media age, a thank you tends to be buried behind a "TY" of a happy face or thumbs-up emoji.
"The unfortunate message this sends to our culture is that our lives have become too busy to spend time sharing a heartfelt thank you. Now, this is not to say that individuals don't send an email of thanks from time to time, but as a society we generally tend toward the more impersonal, 'I texted them/checked it off my list' approach to thank you's as opposed to the more meaningful and grateful connection with someone making them aware of how much you deeply appreciate his/her gift or time and effort in working with you," he said.
He then challenged the class to do better.
"I challenge you to live a life of gratitude, and more importantly, to truly take the time to thank those individuals around you who have helped to get you to this moment in your young lives. Sit with your Parents, your aunts and uncles, your mentors, siblings, coaches, teachers, and say thank you to them," Conley said.
After Conley, Superintendent of Schools John Sanville followed with his own message, saying the graduates should be prepared to change their minds, and that doing so is a good thing, a sign of growth.
He pointed to the fact that they had already changed their views on life simply by growing and going to school for 13 years.
"This process – of changing perspectives – is lifelong – and should be paid attention to. You will leave here today and have a new vantage point from which to view the world. You will have countless opportunities to see a situation from someone else's shoes, and you should do it as often as possible. This simple change can make all the difference," Sanville said.
He told them to listen to and be willing to consider different pints of view, to step outside of themselves and their comfort zones to see things differently.
"Listen – carefully. Change your mind. Progress and growth require movement. Consider that your perspectives on the truth you believe in now may change with experience. I hope you the have ability to adapt and that it puts others at ease. I hope your futures are bright with wisdom and knowledge and experiences from all corners," he said.
Among the student speakers was Taylor Thornton. Paralleling Sanville's message of growth, Thornton likened the growth of her classmates to that of oak seeds that had sprouted and were now ready to blossom into adult trees.
"Never forget, the tallest oaks were once the smallest acorns," she said.

Rich Schwartzman has been reporting on events in the greater Chadds Ford area since September 2001 when he became the founding editor of The Chadds Ford Post. In April 2009 he became managing editor of ChaddsFordLive. He is also an award-winning photographer.
Comments
comments