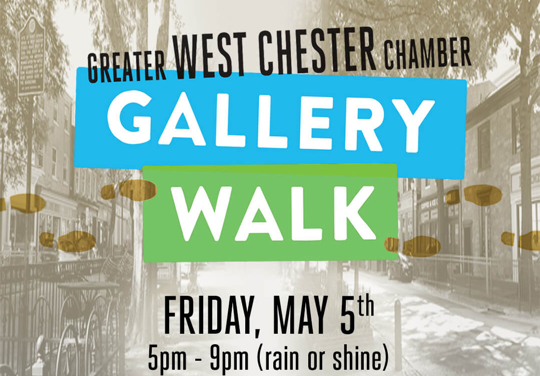 This weekend marks some terrific "First Friday" gallery openings, from the Delaware County, Chester County through to Wilmington, but the biggest art event of the weekend is the West Chester Spring Gallery Walk which happens this Friday May 5 from 5 to 9 p.m.  All up and down the streets of West Chester, businesses will open mini pop up gallery shows for local artists, and 6 West Chester galleries will all be open with art reception events as well.
Twice a year the Greater West Chester Chamber of Commerce puts together Gallery Walk, and you can see which business locations are transforming into art venues on the Gallery Walk map that you can download from the Chamber website http://greaterwestchester.com/events/featured-events/gallery-walk
In addition to the 6 West Chester gallery shows, 36 West Chester businesses will be presenting pop up artist shows at their locations. Every type of art imaginable will be out for show, including ceramics, metal, jewelry, paintings, pastel, photography and textiles. Gallery Walk is a terrific evening for everyone, and the perfect date night to go for a stroll, enjoy art, chatting with local artists, and sample complimentary food and refreshments. If you are planning to grab dinner after Gallery Walk, make sure to get reservations because the town will be packed!
Congratulations to everyone at The Greater West Chester Chamber of Commerce, specifically Dave Fairman, for pulling together another exciting, well organized, fun Spring Gallery Walk! With a host of sponsors including Sunset Hill Jewelers, Otto's Mini, The Master's Baker, Sleep Number Beds, RE/MAX Direct, M&T Bank and more, this event takes almost a year of preparation and coordination. This huge effort brings together all local West Chester businesses and the arts into one terrific evening for the whole family.
The Art Trust, which is located in the Meridian Bank at 16 West Market Street in West Chester, will be celebrating the upcoming huge Chester County Studio Tour with their annual show "View."  Every year "View" offers a glimpse of some of the artists that will be exhibiting at The Chester County Studio Tour May 20 and 21. The Studio Tour brings tens of thousands of art lovers to Chester County, and even with the studio tour maps and signs, it is difficult to pick which artists to visit. This year, "View" showcases 78 of the 178 artists on the tour, with a fun, always packed, exhibition opening this Friday from 5 to 9 p.m.  Check out the artworks and if you really like some of the artists, write down their names and makes sure to visit their studios on The Chester County Studio Tour.
Another great opening, just around the corner from The Art Trust, is painter David Oleski's new show at Church Street Gallery, which opens this Friday from 5 to 9 p.m. David is well known in this area for his large, light filled contemporary still life paintings of fruit. He also does large paintings without subject matter, just filled with dappled cool colors that create a pleasant calming atmosphere. With so many great shows in West Chester on Friday, it will be a race to get to each place! Definitely stop by The Art Trust and Church Street Gallery while you are in West Chester this weekend.
Outside West Chester, there are also some fun art openings at Mala Galleria in Kennett Square, Blue Streak Gallery in Wilmington and all weekend long in Paoli at the Church of the Good Samaritan with the artists from DVAL.
The Delaware Valley Art League's Annual Art Show and Sale, will be happening all weekend long at the Church of the Good Samaritan, located at  212 West Lancaster Avenue in Paoli. DVAL is the oldest and largest professional artist organization in the region, and this show highlights the work of 50 of its esteemed members.  The Delaware Valley Art League meets monthly, for artist discussions, jurying for new shows, artist demonstrations and for sharing art news and information.  If you are interested in being a part of this wonderful organization, just check out their website and email or call them for more information.  The Artists' Reception for the DVAL Art Show & Sale is this Friday night from 6 to 8 p.m. Along with complimentary refreshments and food, many  artists will be demonstrating various techniques throughout the weekend.  The show is open Friday and Saturday 10 a.m. to 9 p.m. and Sunday 1 to 5 p.m.
At Mala Galleria in Kennett Square, there is a very interesting show opening "Head to Head" displaying the unusual double portraits by Milan Kecman.  The artist combines two historical portraits into one image, creating an interesting visual discussion. He does not try to fool the viewer into a seamless merging of two portraits; each one is clearly and cleanly delineated.  In the artist's statement, Milan Kecman writes, "I show their 'alikes' and 'opposites' side by side, two heads joined as one because in our own personal actions and deeds we are all connected in similar manners… Different nations, different races and genders, yet there is a common thread that of humanity."
Further afield in downtown Wilmington, Blue Streak Gallery, at 1721 Delaware Avenue, is exhibiting a multi-artist show "Inspired Landscapes" with the paintings of 11 local artists, each with different techniques and points of view in expressing this iconic subject matter. In the adjoining Gallery II "Artifacts" shows the works of artist Molly Sanger Carpenter.  The opening reception for the shows is Friday May 5 from 5 to 8 p.m. and the shows continue through until the end of May.  Along with two gallery spaces for the display of artwork, Blue Streak also has a marvelous collection of jewelry and artistically inspired clothing for sale… with a fun "Trunk Sale" May 3 from 10 a.m. to 2 p.m.
Walk the walk and look the look at the many openings this weekend.

Lele Galer is an artist who has chaired numerous art shows, taught art history and studio art, public art and has chaired, written and taught the Art in Action Art Appreciation series for the UCFD schools for the past 12 years. She worked at the Metropolitan Museum of Art, and wrote for the Associated Press in Rome. She has been dedicated to Art History and art education for most of her adult life. Lele and her husband Brad own Galer Estate Winery in Kennett Square.
Comments
comments