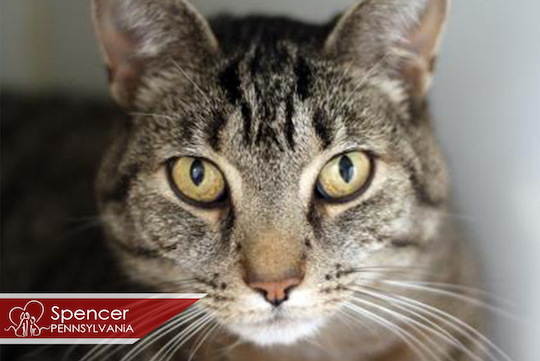 Come meet all the wonderful animals available now for adoption at the Brandywine Valley SPCA. All featured pets are "Name Your Price" adoption fee until Monday, April 24. Not ready to adopt? Then sponsor a pet and provide a safe place for our companions to rest until they find their forever homes. Help us give them a second chance at a fresh start.
SPENCER
Hiya. My name is Spencer. I'm a large, playful tabby cat, just shy of 4 years young. I'm very social and would love to find the perfect forever family to receive love and attention from. I don't really care for being picked up, so I'd do better in a home without small children. I'd be the purr-fect companion for an interactive adult, so if that's you, stop in and meet me today.
POLO
Greetings! I'm Polo, a handsome 4-year-old tuxedo with and adorable freckled nose. In my spare time, I enjoy dressing up, playing, and receiving lots of attention. I'm very friendly and full of energy. I also enjoy being petted. I've definitely got the makings of a great all-around family cat, so if your family is looking for a new furry pal, please drop by and ask about me.
FLUFFY
Hello humans! My name is Fluffy and I'm a pretty black kitty who came into the shelter as a stray. I am 5 years young and very shy, so I'd do best with an owner who can give me time to get comfortable in my new digs. I am a curious cat, and think that I'd warm up quickly once I have time to acclimate to my surroundings. If you have a nice quiet home and are looking for a new furry friend, stop by and meet me. I'm sure we'll get along just fine.
LOLLIPOP
Hey folks, my name is Lollipop. I'm a 2-1/2-year-old mixed breed looking for a new family to call my own. I'm a handsome fellow with a golden coat, expressive brown eyes, and a regal disposition. I arrived at the shelter through the Second Chance program, so I'm really hoping that I'll get my second chance at happiness. I'm neutered, micro-chipped and up-to-date on all of my vaccinations, so I'm ready to go. So what are you waiting for? Stop in today and say hi.
BRAULIO
Don't I look like a happy boy? My name is Braulio and I'm a 5-year-old Pembroke Welsh Corgi mix. I have a stunning brindle coat and a super sweet face that anyone could love. I arrived at the BVSPCA as a part of the Puerto Rico transport that took place last week. It was a long journey, but I'm so excited to be here. I really hope that I can go home with my new forever family soon! I'm neutered, micro-chipped and up-to-date on vaccinations, so I'm ready to be the perfect pup for you.
LION-O
Hi there! My name is Lion-O. I'm a handsome 6-year-old fellow who would like nothing more than to find my forever home. Some of my friends in the shelter like to describe me as pretty laid back and mellow. What can I say? I'm cool as a cucumber. I don't mind other dogs, so if you have other canine companions, bring them in to meet me. I'm not so sure about cats though. I don't really ask for much, just a loving home with a nice bed and a TV nearby. Don't I have a face that you could love? Stop into the BVSPCA New Castle shelter and meet me today.
See Contributors Page http://chaddsfordlive.com/writers/
Comments
comments