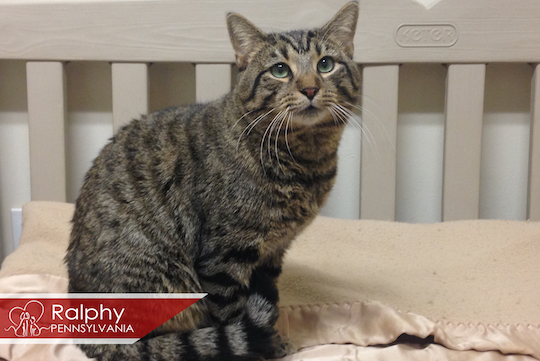 Come meet all the wonderful animals available now for adoption at the Brandywine Valley SPCA. All featured pets are "Name Your Price" adoption fee until Monday, Dec. 19. Not ready to adopt? Then sponsor a pet and provide a safe place for our companions to rest until they find their forever homes. Help us give them a second chance at a fresh start.
RALPHY
Hello, I'm Ralphy. I am a 3-year-old brown tabby cat who arrived at the Brandywine Valley SPCA as a stray. I'm the sweetest guy you'll ever meet and I'll gladly hop into your lap for a cuddle or pet. When I'm not in a cuddly mood, I love to play – especially with the laser pointer (it's my favorite). I get along with other cats in the shelter, so if you have other cats at home, perhaps we could get to know each other? Stop by the shelter and meet me today.
SABRINA
Hello! My name is Sabrina, and I am a 10-year-old gorgeous brown torbie. I was surrendered to the BVSPCA back in November and now I'm ready to find the perfect new family to call my own. If you're looking for an extra special cat, I have a very unique feature – my polydactyl front paws. That means that I have extra toes. Ideally I'm looking for a quieter home with a couple or a family with older children – I'm an older girl and I just want to live out my golden years in a peaceful environment. If I sound like a good fit for you, stop into the shelter and meet me.
HEMMINGWAY
My name is Hemmingway and I'm a dashing 8-year-old, front-declawed kitty looking for a new forever home. I was surrendered to the BVSPCA when my owner passed away, so I'm very familiar with being a house cat and miss the quietness of having my own place to roam. An interesting fact about me is that I'm polydactyl – that means I have extra toes. I get along well with other cats, so if you already have some feline friends at home, I'd love to meet them! Stop by and say hi today.
DUGAN
Hi, my name is Dugan. I am a handsome 3-year-old tan shar-pei mix and an absolute love bug. I will gladly hog the spotlight to be the center of attention, especially if you're willing to give me butt scratches – they're my favorite. I'm also very treat-motivated, so you shouldn't have too much trouble training me. I'm super happy when I get to meet new people, so you should stop by the shelter and come meet me soon – I know we'll be the best of friends.
JADE
Hi. My name is Jade and I'm a big beautiful hound mix looking for the perfect forever family to settle in with. I'm not thoroughly convinced yet that I'm too big to fit on your lap, so I'll definitely try to snuggle up close every chance I get. I love attention and I'm pretty smart – I already know basic commands like sit, down and stay. I get along great with the kiddos, so if you're looking for a good family dog, I'm your girl. Interested in getting to know me? Stop in and say hi. I'll be excitedly waiting for you.
FAWKES
Hi, I'm Fawkes, a dashing 1-and-a-half year old mixed breed male who came into the Brandywine Valley SPCA New Castle shelter as a stray. I'm an all-around super sweet guy who loves to play and take long walks with my human companions. I'd love to find my forever home for the new year and I just know I'd fit in swell with any family. Won't you stop in and meet me?

See Contributors Page https://chaddsfordlive.com/writers/
Comments
comments