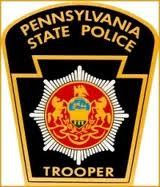 Updated at 11:15 a.m. with more details on truck accident
• A pickup truck ran off Route 1 Memorial Day morning and slammed into the Springhouse Antiques building just up from The Gables Restaurant at Brinton's Bridge Road. (See photo.) Troop J, Avondale barracks, has not yet released any official report, but there is speculation that the driver had a medical situation, which caused him to lose control of his 2009 Ford F160. The truck had supposedly been northbound on Route 1 when the driver lost control. The vehicle crossed over the southbound lanes and struck the building. Storeowner Anne Joyce estimated that her shop would be closed for two months because of structural damage. State police issued an incident report on Wednesday, June 1, that identified the driver as Joseph S. Kauffman, 71, of Strasburg. It said Kauffman sustained injuries of unknown severity and was traveling with Michele Kauffman, 67, who was not injured. The report said Kauffman was not cited but did not explain why.
• A Wilmington man may have been injured in a one-vehicle accident in Kennett Township, but police said there was no transport. A report said Leslie C. Tronzo, 56, was driving a 2015 Jaguar on Kennett Pike when the car left the road and struck a mailbox north of Balmoral Drive. Police said the driver was cited for careless driving.
• Erin M. Moore, 21, of West Chester, was cited for driving at an unsafe speed on May 21, according to Pennsylvania State Police. A report said Moore was traveling north on Lenape Road in Pocopson Township when the 1999 BMW she was driving left the road and began to spin while she was negotiating a left curve on a wet road surface. The car crossed the roadway and landed in a ditch, police said. The driver and the 16-year old passenger were uninjured.
• Andrea Rafael Valdes, 28, of Newark, was cited for DUI following a car crash on Kennett Pike in Kennett Township on May 14, according to state police. A report said Valdes displayed signs of impairment and was arrested following a field sobriety test.
• A Coatesville man, Michael A. Morales, 28, was arrested for DUI following a field sobriety test after a crash on Doe Run Road in West Marlborough Township on May 22. The incident happened at 2:09 a.m.
• State police from the Avondale barracks said Stanley M. Snyder, 65, of Toughkenamon, was arrested for operating a vehicle without an ignition interlock system. Police said Snyder was pulled over on Monday, May 23, at 11:34 a.m. on Limestone Road at Route 41 in New Garden Township for counterfeit emissions and inspection stickers.

See Contributors Page https://chaddsfordlive.com/writers/
Comments
comments