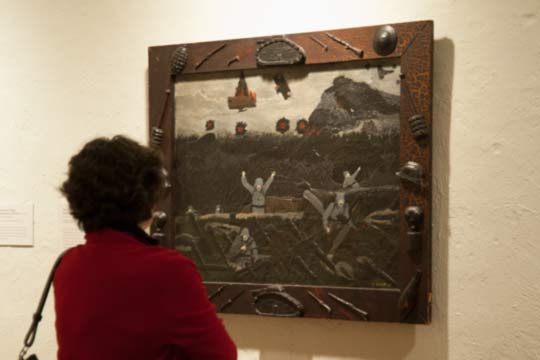 The new exhibit at the Brandywine River Museum of Art represents "an honesty that can't be denied."
That was the comment from Chadds Ford artist Karl Kuerner on the exhibit Horace Pippin: The Way I See It, which opened to the public on April 25 and runs trough July 19.
"He was painting his own life. What else is there?" Kuerner said. "Looking at his work tells you who he is. It's just gorgeous."
Audrey Lewis, the curator for the exhibit, also spoke of Pippin's artistic honesty and integrity.
"Pippin was significant for several reasons. He was an African-American artist who was working in a world that was largely white and he attracted patrons who were largely white. Yet, he kept to his own view. He was true to himself despite pressure to paint certain subjects," Lewis said.
That view, she said, was for Pippin (1888-1945) to tell his own story from his own experiences.
Of major significance were the experiences Pippin faced as a U.S. soldier serving in France during WWI where he was wounded in the shoulder from a rifle shot by a German sniper.
In Pippin's own words: "[The war] brought out the art in me. I can never forget suffering and I will never forget sunset…I came home with all of it and I paint from it today."
But when Pippin returned to his hometown of West Chester after the war, he was unable to make his art for 10 years because he had lost so much mobility in his right arm. But in 1930 he began drawing on wood panels with his left hand to support his right, and he used long hot pokers from the fireplace to incise the images into the wood. Several of those pieces are included in the BRM exhibit.
For the most part, he painted in relative obscurity, known only by his Chester County neighbors until 1937 when several of his works were displayed in an exhibition at the Chester County Art Association. N.C. Wyeth was a judge at that exhibit and became one of Pippin's champions. Another champion was art critic Christian Brinton.
A year later, in 1938, four of Pippin's pieces were on display in the New York Museum of Modern Art.
His art reflects a wide range of experience, from family life with scenes of hearth and home, to four young men singing under a lamppost in Harmonizing, scenes from West Chester and surrounding areas, including the Birmingham Friends Meeting, to a portrait of his wife, scenes of war and religion.
Lewis said Pippin used his art to almost preach.
"He had strong religious beliefs and he wanted to convey his beliefs to others, [but] not just in religious paintings, through a message of peace," she said.
Perhaps his Holy Mountain works — based on the Book of Isaiah — typify that layer of expression. In Holy Mountain II, Pippin shows a pastoral scene with humans and animals — predator and prey — existing peacefully in a field while soldiers can be scene fighting in the woods behind them. Also behind them, on the left, is a human form hanging from a tree.
(Three of the four paintings in the Holy Mountain series are on display during the exhibit. The fourth is owned by Bill Cosby.)
The impact of war on Pippin goes beyond just the images on canvas. His The End of War depicts shell bursts, fiery aircraft crashes, soldiers fighting and one with his hands up, but the frame is also telling. It's decorated with helmet, rifles, grenades and tanks.
Race, too, has a place in Pippin's work. The Whipping shows a slave being whipped and The Barracks shows a segregated barracks scene.
Lewis said Pippin's art evolved over the years in terms of showing form and space, but he was still devoted to abstract forms.
"Even though he was depicting reality, he saw it differently," she said.
He also began adding more color as his art developed and the paintings became more complex, according to the curator.
For Lewis, Pippin was a man "who understood suffering and also understood joy. He tried to express both in his paintings. You see optimism, but you also see realism."

Rich Schwartzman has been reporting on events in the greater Chadds Ford area since September 2001 when he became the founding editor of The Chadds Ford Post. In April 2009 he became managing editor of ChaddsFordLive. He is also an award-winning photographer.
Comments
comments