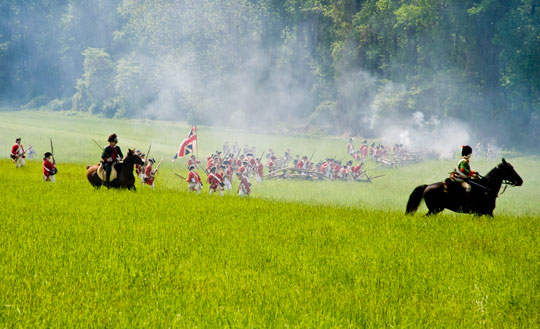 The tattoo of drums, the booming eruptions of cannon and the smaller punctuating reports of musket fire reverberated across the field at Sandy Hollow Heritage Park in Birmingham Township on May 17 and 18.
Hundreds of re-enactors and thousands of visitors either took part in or watched a re-enactment of the 1777 Battle of Brandywine on the same ground where the actual fighting took place.
"On Hallowed Ground" was the first re-enactment of the largest land battle of the War for Independence in seven years. The Brandywine Battlefield Park used to host the annual Rev Times event, but that stopped in 2007. This past weekend's event was the first time in decades that the event was at Sandy Hollow, where British and American forces clashed on Sept. 11 when British Gen. Sir Wm. Howe made the first move in a bid to take Philadelphia and end the rebellion.
The event, however, was not just about fighting. There was also a debt of honor to be repaid.
In the aftermath of the battle, members of various families submitted a bill to the British general for their property that had been "appropriated" by Howe's soldiers. Cattle, horses, oxen and various foodstuffs valued at £ 500 were taken from the civilians.  As per the story, Howe said the bill would be paid.
It wasn't, though, at least not until this past Saturday when, in a symbolic move, retired British Col. Michael Vernon Powell, of the 49th Regiment of Foot — the regiment that fought at Brandywine — repaid the debt of honor by giving a bag of coins to descendants of some of the original families.
Powell joking referred to "this supposed debt," but acknowledged it was time to make restitution.
In another acknowledgement to the civilian population that had to endure the battle and its aftermath, members of the Birmingham Friends Meeting put on a small play, "The Riddle of Penncroft Farm," based on Dorthea Jensen's book of the same title.

Rich Schwartzman has been reporting on events in the greater Chadds Ford area since September 2001 when he became the founding editor of The Chadds Ford Post. In April 2009 he became managing editor of ChaddsFordLive. He is also an award-winning photographer.
Comments
comments