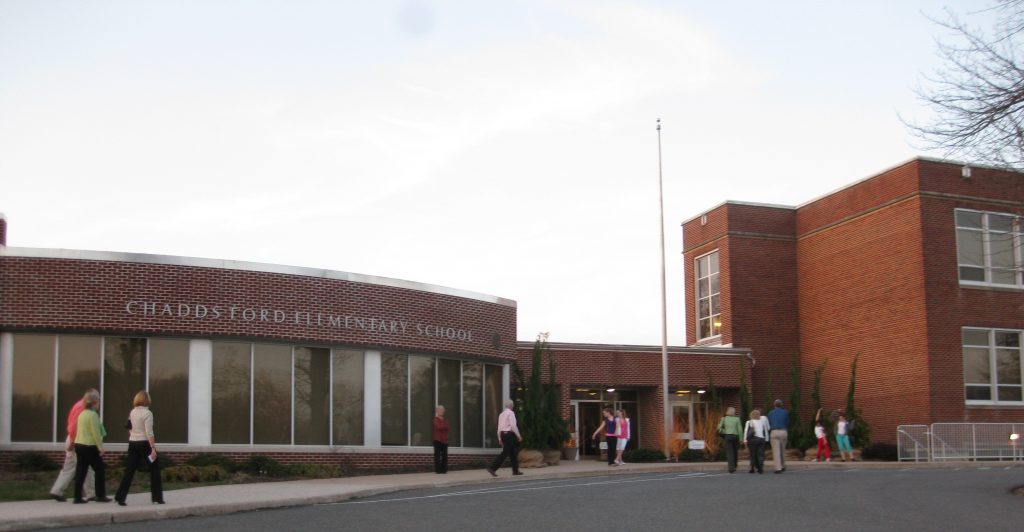 Chadds Ford Elementary School hosted is annual art show Friday March 19 and Saturday March 20. The show was well attended with dancers from the Darlington Art Center welcoming guests in front of the school.
The featured artist this year was Len Garon, although he was taken ill and unable to attend. Donating Artist was Diane Cannon, the Vice President of the Studio Group, Inc. in Wilmington.
Hot hors d'oeuvres were served through out the elementary school transformed to art gallery. Violin music provided by Clare and Amy Semes Friday night provided a relaxing background in which to stroll through the aisles of framed art work and to talk with the artists.
On Saturday the music was provided by Alex Claffy Quartet and Andrew Vogts on violin. Artist Lou Messa gave a demonstration on Landscape Painting. Annette Alessi demonstrated portrait painting.
This year's chairpersons were Toni Lynam and Andrea Pandolfi.

Emily Myers has lived and worked in Chadds Ford for over thirty five years.  She founded the parent company of Chadds Ford Live, Decision Design Research, Inc., in 1982.  ChaddsFordLive.com represents the confluence of Myers' long time, deep involvement in technology and community. Myers was a founding member of the Chadds Ford Business Association and currently serves on its board of directors.  Her hobbies include bridge, golf, photography and Tai Chi. She lives with her husband, Jim Lebedda, in Chadds Ford Township.
Comments
comments