Pennsylvania State Police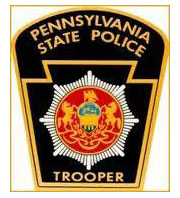 • State police cited a 17-year-old woman from Coatesville for failing to stop at a stop sign in Pennsbury Township following a two-vehicle crash at Route 1 and Brintons Bridge Road on Dec. 5. The accident happened at 9:07 p.m. when the young driver ran the stop sign and crossed onto Route 1 from southbound Brintons Bridge, striking the vehicle heading south on Route 1. The cited driver was not injured but a 69-year-old passenger in the other vehicle was believed injured. He refused transport, police said.
• Police said Keith W. Dunning, 50, of Wilmington, was cited following a traffic accident on Route 1 at Bayard Road in East Marlborough Township on Dec. 10. According to the police report, Dunning was driving north on Bayard Road and attempted making a left turn onto Route 1 when it struck another vehicle in the intersection.
• A 21-year-old man from Bear was arrested for drug possession in Pennsbury Township. The suspect was not named in the report, but police said the arrest followed a traffic stop on Dec. 13 at 3:05 a.m. on Route 1 near Chadds Ford Elementary School.
• Police said two men from Wilmington were arrested on retail theft charges after the pair were allegedly stealing from the Walmart in East Marlborough Township on Dec. 13. The pair were also arrested on drug charges when police searched their vehicle. Police did not identify the individuals.

See Contributors Page http://chaddsfordlive.com/writers/
Comments
comments