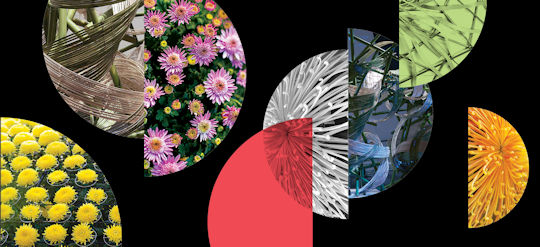 Longwood Gardens presents "Blooms & Bamboo: Chrysanthemum and Ikebana Sogetsu Artistry." The exhibit opens Thursday October 3 and runs through November 17.

Akane Teshigahara is the fourth Iemoto, or Headmaster, of the Sogetsu School of Ikebana, based in Japan. The traditional art of Japanese floral design, Ikebana serves as an expression of Japan's deep connection with nature. Spanning more than 600 years of history, this art features hundreds of different Ikebana schools, each developing its own forms that depict the ideal of beauty and grace.
One such school is the Sogetsu School. Built on the belief that Ikebana is a creative art in which one can express his or her originality—and that anyone can enjoy anytime, anywhere, and using any material—Sogetsu is one of the newest and most modern schools of Ikebana. The Sogetsu School was founded in 1927 by Sofu Teshigahara and is now under the guidance of his granddaughter, Headmaster Akane Teshigahara, who designed the two bamboo art forms for the exhibit.
"Although I have created bamboo installations in a variety of styles in Japan and around the world for more than 20 years, the two installations planned for Longwood will be the greatest and finest of all, both in terms of scale and bamboo manipulation techniques," Teshigahara explained.
For her two bamboo installations exclusively designed for display at Longwood, Teshigahara and her team will be twisting, spiraling, and intertwining 635 rods of bamboo to create natural works of art reaching as high as 30 feet… making it the largest display Teshigahara has ever designed in the States, and one in which guests can even walk through.
There are more than 120 Sogetsu chapters in 38 countries and regions around the world.
About Longwood Gardens
In 1906, industrialist Pierre du Pont (1870-1954) purchased a small farm near Kennett Square, PA, to save a collection of historic trees from being sold for lumber. Today, Longwood Gardens is one of the world's great horticultural displays, encompassing 1,100 acres of dazzling gardens, woodlands, meadows, fountains, 10,010-pipe Aeolian organ and 4.5-acre conservatory.  Longwood continues the mission set forth by Mr. du Pont to inspire people through excellence in garden design, horticulture, education and the performing arts, through programming that includes exhibitions, musical performances by leading artists, renowned horticulture education programs, horticulture research, environmental stewardship and community engagement. Open daily, Longwood is one of more than 30 gardens in the Philadelphia region known as America's Garden Capital. For more information, visit longwoodgardens.org.

Comments
comments