Pennsylvania State Police
• Christopher R. Mariani, 48, of Chester Heights, was cited following a traffic accident in which a 61-year-old woman from Garysburg, N.C. was injured, a police report said. The accident happened at 1:16 a.m. on Feb. 4 at Route 202 and Smithbridge Road. Police said Mariani was driving east in Smithbridge when he failed to stop for a red light and drove into the path of the other car. Concordville EMS took the victim to Riddle Hospital for treatment.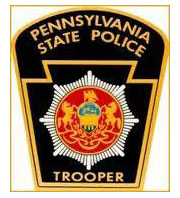 • Police said they arrested Kristopher Bigelow, of Wilmington, for DUI following a Feb. 4 traffic stop shortly before midnight at Applied Card Way. Police gave no other details.
• State police from the Media barracks stopped an unidentified male for traffic violations and found him possessing an unidentified substance. The incident happened 11:53 a.m. on Feb. 16 in the 200 block of Evergreen Drive in Concord Township.
• Police from the Avondale barracks said they responded to a single-vehicle crash to find Bruce William Manley, 34, of West Chester, under the influence of alcohol. The report said Manley refused field sobriety testing, didn't submit to a blood draw or provide a breath sample. The incident happened11:24 p.m. on Feb. 9 in front of 749 Unionville Road, East Marlborough Township.
• At 12:23 a.m. on Jan. 27, a police report said, a 31-year-old male — unnamed in the report — from Kennett Square was determined to be DUI and incapable of driving safely. Police said the person was stopped in front of 278 Longview Lane in East Marlborough Township.
Southern Chester County Regional Police Department
• Christopher N. Schuler, 39, of Milton, Del., was arrested on Feb. 3 and charged with violations of the Controlled Substance, Drug, Device, and Cosmetic Act (Act 64), as well as with criminal mischief and disorderly conduct, a police report said. The incident occurred at 1:29 p.m. in the 6000 block of Limestone Road, in New Garden Township. Police were called to a residence for the report of an ex-tenant attempting to gain entry through the wooden front door. Upon arrival, police were advised that a subject had used a tire iron to strike the door, in an attempt to break it. Police contacted Schuler and, the report said, saw in plain sight a tied off plastic baggie containing a white powdery substance suspected to be methamphetamine. A subsequent search of the vehicle produced two similar bags containing suspected heroin, as well as related drug paraphernalia. Schuler was taken into custody and a search incidental to arrest produced additional contraband on his person. He was later arraigned and was committed to the Chester County Prison, in lieu of posting 10 percent of $15,000 bail.
See Contributors Page http://chaddsfordlive.com/writers/
Comments
comments