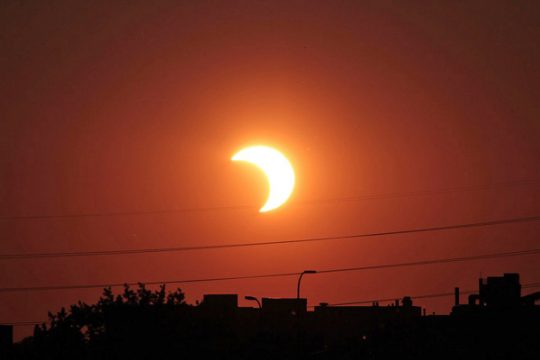 For the first time in nearly 40 years, the United States will experience a total solar eclipse. On Monday, August 21, the Great American Solar Eclipse will cut a 70-mile-wide path across the country, starting in Oregon and ending in South Carolina. As the moon passes in front of the sun and casts a shadow that turns day into night, millions of Americans will marvel at a natural phenomenon that has surprised, frightened, and inspired mankind for millennia.If you're planning to experience the eclipse firsthand, there are a few important things you need to remember before you head out the door to your favorite viewing spot. Without the right safety equipment to protect your eyes, a few minutes of marveling at the sun can set you up for long-lasting damage to your vision.
"It's never safe to look directly at the sun, and the total solar eclipse is no different," says Christopher A. Williams, M.D., chief of Ophthalmology at Crozer-Chester Medical Center, Springfield Hospital and Taylor Hospital. "It's possible to enjoy the eclipse safely with the right eyewear."
The Right Eye Protection Is Essential
"Eclipse glasses" are necessary if you're planning to view the solar eclipse. These protective glasses block 100,000 times more light than your standard sunglasses or any homemade devices you create yourself.
"The sunglasses you use for everyday wear will not provide the protection you need to view the eclipse, even for a short period of time," says Richard L. Jahnle, M.D., an ophthalmologist at the Crozer-Keystone Surgery Center at Haverford. "You need eclipse glasses that have been produced to meet international safety standards."
Glasses meeting this standard will carry the number ISO 12312-2, which ensures that they provide the appropriate protection for viewing.
Be aware that not all glasses marketed as eclipse glasses meet this standard, unfortunately, so be careful. Amazon recently issued a recall for glasses from vendors who may be selling counterfeit versions.
NASA recommends getting glasses from manufacturers such as:
Rainbow Symphony
TSE 17
Baader Planetarium (Astro Silver/Gold Film only)
Thousand Oaks Optical
American Paper Optics
How a Total Solar Eclipse Can Damage Your Eyes
Think back to when you were a child and used a magnifying glass to focus the sun's rays on a leaf to set it on fire. Looking directly into the sun or a solar eclipse can have much the same effect on the delicate structures in your eye.
"The condition is called solar retinopathy and it happens when sunlight floods the retina in the back of your eyeballs, causing a flood of chemical messengers that damages your eyes," says Dr. Williams. "It can be painless while it's happening, but the damage may last for weeks or months and sometimes is permanent."
Common symptoms of solar retinopathy include blurriness and blind spots at the center, or near the center of your vision. Unfortunately, it doesn't take long for the damage to occur.
"You may think that glancing at the sun and looking away quickly is a good strategy," Jahnle says. "However, the damage is cumulative, which means that even short periods of looking at the sun can add up and become problematic."
Don't miss your chance to see the Great American Solar Eclipse on August 21, since your next opportunity in the United States won't happen until 2024. Just make sure you're using the proper protection to enjoy it safely.
Christopher A. Williams, M.D. is chief of Ophthalmology at Crozer-Chester Medical Center, Springfield Hospital and Taylor Hospital.

Crozer-Keystone Health System's physicians, specialists and advanced practitioners are committed to improving the health of our community through patient-centered, quality care across a full continuum of health services. Crozer Brinton Lake is Crozer-Keystone's comprehensive outpatient care facility in western Delaware County, offering primary care, specialty services, outpatient surgery and advanced cancer treatment. Contact us: 300 Evergreen Drive, Glen Mills, PA 19342 http://www.crozerkeystone.org/Brinton-Lake 1-855-254-7425
Comments
comments