The first weekend in December is full of local artisan shows, craft fairs, and open studios of local artists selling everything from paintings to ceramics and jewelry. This month is the "Art of the Gift" for the Brandywine Artisan Wine Trail, so even wineries will be getting into the spirit of handmade gifts for the holiday season. With so many options, it makes for some difficult choices in the weekends ahead!
Artist friends Ellie Byrom Haley, Kim Z and Randy Strader are having an open studio sale on Saturday December 5th from 2-7 pm at 27 Dilworthtown Road in Thorton, where they are filling the place with delightfully intriguing art and artifacts.   My husband and I bought three artworks there last year for gifts … and kept them all instead. It is so hard to give away things that are one-of-a-kind!
Also on December 5th, from 10am-4 pm ceramic artist Bridget Hughes will have her pottery sale open house at 562 Spring Hollow Lane in Media. Her work was recently shown at the successful Unionville Art Gala two weeks ago.
Sculptor Jill Beech has another great artist open studio Sunday December 6 and December 12th 10am-4:30 pm. Located about 20 minutes north of Kennett Square, her studio is at 6 Park Avenue in East Fallowfield PA. Weaving artist Eva Stossel will be showing at the Beech studio as well.
Other art gift shows and sales include the $300 and under show at the Chester County Art Association in West Chester, the "Gifted" show ($500 and under) at the Art Trust at the Meridian Bank in West Chester, and the "Artisan Gift Shop" at The Oxford Art Alliance showing 10 am – 6 pm through December 23rd.
This Friday, The Oxford Art Alliance has their "Community Art Project" holiday ornament and sand art for public hand-on fun from 5-8pm. The Phoenix Village Art Center features the colorful work of artist Sidish Nidamarthy for the month of December; whose work incorporates traditional Indian styles and Persian motifs. Also remember, all of these wonderful art organizations have myriad classes for you and your family to choose from throughout the winter season…wouldn't an art class be an incredible gift?!.
Local art galleries also have intriguing new shows for the month -- stop in to unwind and breathe in the creative spirit at The Church Street Gallery in West Chester, Mala Gallerie in Kennett Square, The Longwood Art Gallery in Kennett Square, and The Chadds Ford Gallery in Chadds Ford.
For the first week in December, The Church Street Gallery is finishing its show of Robert Bohne's "Revisited" stunning, subtle, sometimes tonat oil studies that make the everyday landscape bring you to another place and time. The show's title "Revisited" refers to the fact that Robert Bohne was the first artist to show at the Church Street Gallery when it opened, so this show is a celebration of this gallery's success and a revisit to the work of a very fine artist.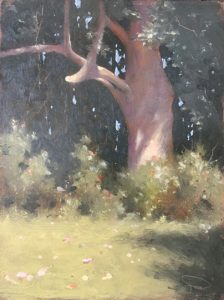 Mala Gallerie is already all lit up for the holidays! This month Mala features the work of Lithuanian artist Serge Krupnov in an exhibition entitled "Journey", which opens with a reception on Friday December 4th from 6-9 pm. Also at Mala, Jennifer Domal's Pysanky egg ornaments are for sales as well art selections from 27other local artists.
To help the community's Kennett Cupboard, Mala Galleria is selling Tea Bowls made by the students from Greenwood Elementary School. See above photo.  Led by the Gallery's artist Meghan Bergman. 100% of proceeds will be given to Kennett Cupboard, so please visit and purchase one for this good cause!
The walls of Galer Estate Winery's tasting room are full top to bottom with the beautiful work of ceramics artists Rhoda Kahler and Emily Manko on Sunday, December 6th. These contemporary pieces are priced from $100 -$1000, and would be striking complements to any home, and they look really great at the winery too.
The Brandywine River Museum of Art will always put you and your family in a holiday mood with their beautiful Christmas display and train exhibit. Their annual "Critters" ornament sale is this Saturday December 5th and 6th from 9:30 am -4:30 pm. The critters may not technically be fine art, but they are such a delightful museum tradition where volunteers spend all year creating these novel ornaments from natural seedpods and other findings to raise money for the museum. The museum has several December evenings of Christmas carols, and even evenings with children dancing the Nutcracker. Checkout the museum's website for tickets and information for these heartwarming family traditions.
At The Delaware Museum of Art, take your family for a stroll through the wonderful permanent collection and open your brain a bit by attending one of their lecture series, including "Poetry Behind the Painting" December 6th with Dr. Lillyrose Veneziano Broccia from the University of Pennsylvania. Lectures at both of these fine museums are always stimulating and leave you feeling smarter and engaged…great brain food after all that shopping!

Lele Galer is an artist who has chaired numerous art shows, taught art history and studio art, public art and has chaired, written and taught the Art in Action Art Appreciation series for the UCFD schools for the past 12 years. She worked at the Metropolitan Museum of Art, and wrote for the Associated Press in Rome. She has been dedicated to Art History and art education for most of her adult life. Lele and her husband Brad own Galer Estate Winery in Kennett Square.
Comments
comments