Unionville High School's annual Art Gala is set for Nov 15 and 16 at the school. The art show and sale showcases local working artists, UHS Alumni, and current Unionville High School student artists. In addition to the artwork, there is live music to entertain and great food to enjoy.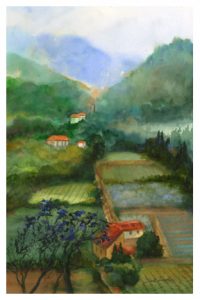 The Unionville High School Art Gala strives to include a variety of artists  — both new and more established individuals. Approximately 70 participating artists express their talents through diverse mediums including oil and watercolor paintings, photography, glass, metal, pastels, mixed media, jewelry, ceramics, mosaics, and wood.
This year's featured artist is Diane Cannon. Cannon's work is inspired by nature. She is intrigued by the shapes and textures of natural forms. Diane said the play of light and design is foremost on her mind as she composes and rearranges and finally paints. Adding collage often gives her work an additional push. Her exhibit combines watercolor, collage, and mixed media.
She has been a frequent award winner in many juried shows. Cannon has served as president of the Studio Group, Inc. in Wilmington, and has served on the boards of the Delaware Foundation for the Visual Arts, and the Delaware Valley Art League as exhibition chairman. She studies, paints and exhibits at the Howard Pyle Studio in Wilmington.
The Art Gala includes a Student Art section which highlights the impressive artistic talents nurtured by UHS and its outstanding Art Department. In addition to approximately 175 student artists, two students who demonstrate particularly refined and distinct talents are selected as featured student artists each year.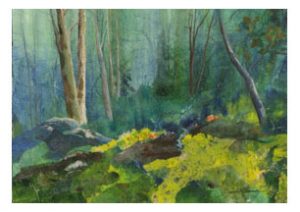 A silent auction is offered to the public which features beautiful artwork donated by the talented artists in the show as well as select regional activities and outings. The Auction runs both Friday and Saturday and closes one hour before the show ended, at 3 p.m. on Saturday, Nov. 16. You do not need to be present to win.
The 2019 Unionville High School Art Gala begins Friday, Nov. 15 from 6-9 p.m. and Saturday, Nov. 16 from 11 a.m.–4 p.m. at Unionville High School Art Center, Auditorium Entrance, 750 Unionville Road, Kennett Square, PA 19348.
Friday evening includes delicious appetizers provided by some of the area's most popular restaurants and live music from local musicians. This fun and lively event is not to be missed. The funds raised from this event contribute toward Educational Enrichment Projects which help enhance the overall educational experience for Unionville High School students as well as help fund local community outreach efforts. Admission to the event is free. Free parking is available. Thirty percent of all purchases benefit the UHS PTO.

Comments
comments