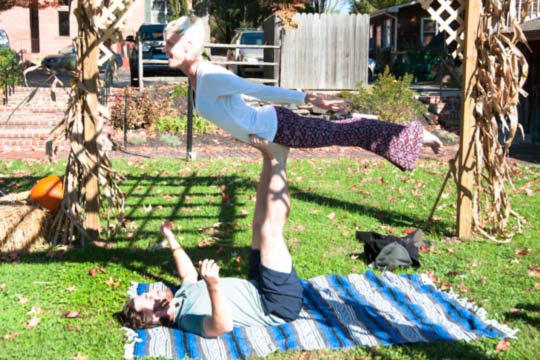 • Chris Ferron, bottom, supports Marcy Flynn as they practice acro yoga outside the Transcend Yoga Studio in the Barn Shoppes in Chadds Ford. (See photo above.) Flynn, one of the owners of Transcend, said acro yoga is fairly new, about 10 years old. She called it a "fun, partner-style" practice and can be considered a modern day dance form. She also said the studio has changed its pricing policy. Fees are now based on donations. "Pay what you want," she said.
• The second annual 5K Brandywine Run is this Saturday, Nov. 1, beginning at 8:30 a.m. The raced starts at the Chadds Ford Township municipal building and finishes at the Brandywine Rover Museum of Art, a press release said. Racers will run along Ring Road to Bullock Road, and from Bullock to Creek Road. Then it's Creek Road to Station Way to the museum.
• Ring Road floods when Harvey Run spills its banks, as most Chadds Ford residents know. Now there's a new warning device to let people know that the road is flooded. The devices, one facing in each direction, come courtesy of the state's Automatic Red Light Enforcement grant at no cost to township residents, according to Supervisors' Chairman Keith Klaver. The units are solar-powered and flash when the road floods. They are triggered from sensors in the roadway.
• The Kennett Flash presents the Serafin String Quartet in a concert series titled "Sip and Savor with the Serafins" on Wednesday evenings at 7:30 p.m. On Nov. 5, the Quartet presents "Nordic Journey" offering a behind the scenes tour of Norway's most celebrated composer, Edvard Grieg. The next concert on Dec. 3 titled "Viennese Classical Roots" features Mozart Quartet in d minor with samples from Haydn and Beethoven.
• It's Pirate Adventure Day at the Brandywine River Museum of Art on Sunday, Nov. 2. From 10 a.m. to 2 p.m. visitors can create pirate-themed crafts, participate in a rope-tying demonstration, hunt for treasure and hear daring tales of journeys on the high seas presented by Hedgerow Theater. Admission is free from 9:30 a.m. until noon, part of the free Sunday morning program running until Nov. 23.
• Pinot's Palette in Olde Ridge Village — along with all studios in the chain — will be holding a National Painting it Forward event for the National Breast Cancer Foundation on Nov. 7 from 7-9 p.m. For every guest that attends the event, the studios are donating $15 to the foundation with a goal to raise $20,000. The link http://www.pinotspalette.com/GlenMills/Class/32965 is for the painting we will be offering, called Pink Bliss. Cost is $35 per painter. We are BYOB so guests are free to bring their beverage of choice as well as any food they may want to have. We supply everything else they need, plates, wine glasses, napkins, utensils, ice and all supplies to create their very own masterpiece.
• Artist Matthew Jensen will discuss his installation, Matthew Jensen: Alongside Tall Grasses, and how he uses photography, walking and collection building to reinvent the way landscape is represented and understood. The event is Saturday, Nov. 8, at 2 p.m. It is free for members and included in museum admission.
• There will be a Veterans' Day memorial ceremony Sunday, Nov. 9 at the Concord Township American Hero Memorial on Smithbridge Road across from the Rachel Kohl Memorial. Beginning at 3 p.m. There will be a brief presentation with a changing of the flags. There will also be Paul Scarborough prints for sale.
• Families with pre-school aged children are invited to attend the Saint Thomas the Apostle School Early Childhood Education Festival on Sunday, Nov. 9, from 12:30 to 2 p.m. Families attending will have the opportunity to meet the teachers, visit the classrooms, receive information and hear about what make Saint Thomas the Apostle School different. Saint Thomas the Apostle School pre-k and kindergarten program encompasses daily lessons in religion, math, science, social studies, English language arts, penmanship and weekly curriculum in art, computers, music and physical education. Those interested in attending please send an email to stamarketing@staglenmills.org or visit www.stamarketing@STAGlenMills.org
• November is National Diabetes Awareness Month and the YMCA of the Brandywine Valley and YMCA of the Upper Main Line are encouraging residents to learn their risks for pre-diabetes and type 2 diabetes and to take preventive steps to potentially reduce their chances of developing the disease. The YMCA of the Brandywine Valley is focusing on diabetes awareness and prevention at Wellness Wednesday events on Nov. 12. Informative chats and screenings will be held during the morning and early evening at the Brandywine Y, Coatesville; Jennersville Y, West Grove; Kennett Area Y, Kennett Square; West Chester Area Y, Airport Road; Upper Main Line Y, Berwyn and Lionville Community Y, Exton. The Y will offer a $1 joining fee Fri. Nov. 14 through Sunday, Nov. 16 in support of World Diabetes Day on Nov. 16.
• Local residents can start the season with a double decker of holiday spirit when Uptown! Entertainment Alliance partners with the Pennsylvania Academy of Performing Arts to present its third annual Christmas Show in West Chester on Saturday, Dec. 6.   The evening will begin with a 6 p.m. performance of "A Christmas Carol…More or Less" at the West Chester Historical Society on North High Street, followed by a 7 p.m. candlelit Christmas Carol Walk through downtown West Chester. The show is free, but a $5 donation is suggested, a press release said. All proceeds benefit UEA's mission to bring a performing arts theater to West Chester.
• From Oct. 27 through Nov. 24, Crozer-Keystone will hold its annual food drive to benefit the Community Action Agency of Delaware County. Food donations should be should be packed in cans, boxes or plastic bottle. There will be a drop off bin in the main lobby at the Crozer Medical Plaza at Brinton Lake at 300 Evergreen Drive. There will also be a toy from Nov. 24 through Dec. 19.
• The Chester County Fund for Women and Girls is now accepting nominations for the 2015 Kitchen Table Award, which honors a Chester County woman who represents the mission and values of the nonprofit. All nominations must be received by Monday, Dec. 22. To learn more about the award and to download the nomination form, visit: http://ccwomenandgirls.org/kitchen-table-award-nominations-now-open/

See Contributors Page http://chaddsfordlive.com/writers/
Comments
comments