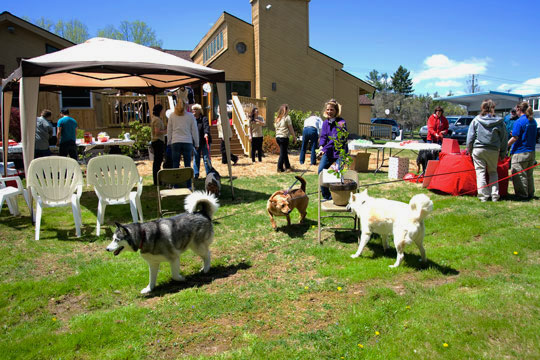 • Chadds Ford went a little dog happy as a new veterinary office for veterinarian Michelle Parker, the Glen Mills Veterinary Hospital, held an open house Sunday, April 27 at 1785 Wilmington West Chester Pike. (See photo.) The office is situated between the two ends of the Woodland Drive horseshoe. The tile and marble store is on one side and The Cottage Small Dog Daycare is on the other.
• A P-51 fighter plane, scheduled to be on display at the New Garden Flying Field this weekend, has been postponed due to poor field conditions at the planes home field. The event will; be rescheduled for later this year.
• Tourette syndrome and ADHD, or are a parent, educator, or professional who work with children and adults with these neurobiological conditions, are invited to attend Effective Outcomes for Living with Tourette Syndrome on Saturday, May 3, from 9 a.m. to 12:30 p.m. at the Aldersgate United Methodist Church on Route 202 in Wilmington. This mini-conference is presented by the non-profit Tourette Syndrome Association of Delaware and further details about topics, speakers, and registration are available at www.tourettedelaware.org or by emailing info@tourettedelaware.org  or calling 484-437-8034. Registration is $15 per person.
• Congratulations go out to Longwood Gardens. USA Today recently named Longwood the number one garden in the country.
• The Kennett Area Senior Center is sponsoring the second annual "A Taste of Italy" Spaghetti Dinner Fundraiser on Saturday, May 10 from 4:00 – 7:30 p.m. The menu includes spaghetti and meatballs (featuring fabulous homemade sauce), salad, bread, beverages, and a choice of delicious desserts. You can Eat In or Take Out! Also, it's BYOB! Bring your own wine and glasses too. The cost is $15/person, children 6 to10 years old $6, children under 5 years old free. For ticket information, please call the KASC @ 610-444-4819. Be sure to reserve early.
• The annual Baseball Benefit for Friends of Brandywine Battlefield is scheduled for Friday, July 11, at 7:05 p.m. when the Wilmington Blue Rocks host the Salem Red Sox. Cost is $20 per person. The event is sponsored by the Chadds Ford Business Association. All tickets must be purchased by June 13. Your support is doubled because contributions will be matched by the Phyllis Recca Foundation. Visit chaddsfordlive.com/shop to buy tickets.

See Contributors Page http://chaddsfordlive.com/writers/
Comments
comments