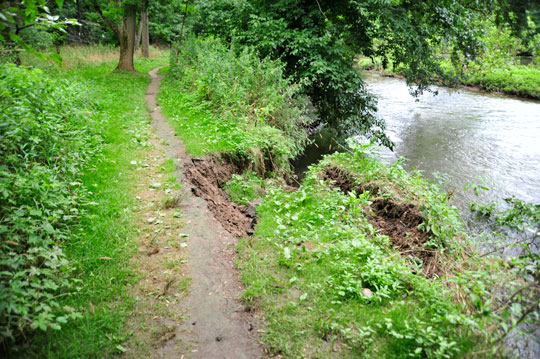 • The trail along the Brandywine Creek near the River Museum took a hit from mother nature. A tree along the bank went over either from excessive rain, erosion or a combination of both. Take care while walking in the area. (See photo above.)
• The Brandywine River Museum will offer free admission on July 12, the birthday of the late Andrew Wyeth.
• The Christian C. Sanderson Museum in Chadds Ford announced that Matthew Sakaduski has joined the museum as marketing director.  Sakaduski is a University of Pittsburgh graduate with a bachelor's degree in history and a minor in English literature and experience at various types of non-profit organizations. "We are extremely pleased to have Matt join the Sanderson Museum family. His background will be a great asset to the museum in increasing its outreach among Brandywine Valley residents and visitors," said Sanderson Museum President Sue Minarchi.
• The Kennett Symphony of Chester County's first annual Beat Beethoven 5K race/1 Mile Walk will be held on Thursday, July 18, 6:30 p.m. at Radley Run Country Club. The object of the race/walk is to finish the course before Beethoven's famous 5th Symphony finishes – approximately 32 minutes.  The run/walk will begin with the opening sounds of the 5th Symphony. The goal is to finish the course before the music ends, and therefore "beat" Beethoven. Pre-registration is $20 in advance on the following websites: www.runccrs.com or www.kennettsymphony.org Race day registration is $25 on-site at Radley Run beginning at 5:30 p.m.
• The YMCA of the Brandywine Valley's annual Benefit Bike Ride is Saturday, July 20. Proceeds from the event benefit the Y's financial assistance programs. This fun day out features bike rides for all ages and fitness levels. Riders can choose to cycle the full 80-mile course, or choose distances of 40, 25 or 15 miles. Riders on the 15 through 80-mile course receive full Support and Gear (SAG) support. A family-friendly course provides riding options for youth. Refreshments will be available before and after the ride. Proceeds from the ride support the financial assistance programs of the West Chester, Kennett and Jennersville YMCAs, which enable the Y to provide free or reduced-fee memberships, childcare, camp and other programs to the community. In 2012, the Benefit Bike Ride raised more than $35,000 for financial assistance. The event is presented by Stillman Volvo. Advance registration is available at www.wcaybikeride.com or the day of the event. Registration opens at 7 a.m. on July 20.
• Stitch up a good time with this 4-H camp; Sew Much Fun – Intro to Sewing. Offered through Chester County 4-H and the Penn State Extension-Chester County, this hands-on camp will be held July 23 - 25, 9:30 a.m. to noon at the Chester County Extension office located in the Government Services Center, 601 Westtown Road, Suite 370 in West Chester. This beginner sewing class will teach basic hand sewing stitches and introduce straight stitching on a sewing machine.  The class promises to be both fun and enriching.  All necessary supplies will be provided.  The cost of this camp is $30.00. For more information or to download the registration form, please visit the website at http://extension.psu.edu/4-h/counties/chester or call the extension office at 610-696-3500. Registration is on a first come-first serve basis. Please call the Extension office to verify class availability prior to mailing in payment.
• Brandywine Ballet Co. will be performing as part of the Delaware County Summer Festival in Rose Tree Park in Delaware County on Friday, July 26 at 7:30 p.m. Included in the summer festival performance will be excerpts from Nancy Page's Rock Ballet, featuring School of Rock - Downingtown.  Rock Ballet will be performed in its entirety at the company's season-opening production of Grace & Guitars later this year. Admission is free.
• The Kennett Area Senior Center sponsors a free blood pressure screening on the second Thursday of each month. This service is provided by Neighborhood Health Agencies, Inc. In addition to KASC members, all seniors in the general public age 60 and up are invited to receive this important medical service. No appointment is necessary. The next scheduled date is Thursday, Aug. 8 from 10:30 – 11:30 a.m.
See Contributors Page http://chaddsfordlive.com/writers/
Comments
comments