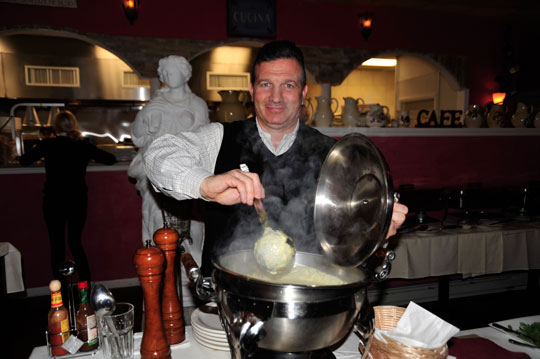 With breakfast and lunch buffets and a la carte dinners at the new Fellini Café Trattoria, "mangia" — "eat" in Italian — might take on a deeper root in common parlance.
Fellini opened in the location of the old Wawa in the little strip mall with the U.S. Post Office on Route 1 at Creek Road in Chadds Ford on Jan. 9. The owner is Franco Raimondo, who has almost a half-century of restaurant experience, but guests might be greeted by the manger who goes by his first name, Pino.
Pino grew up in the food industry. His family had their own restaurant in Salerno, Italy and he spent decades working on cruise ships. He's sailed around the world three times and is passionate about food and people.
He said Franco wanted to open in Chadds ford because he likes the area and the people.
"All the people we've met have been very nice and we wanted to bring them nice fresh food," Pino added.
The breakfast buffet — 7:30 - 11 a.m. — is $8.95 is and includes a fruit bar, waffles, pancakes along with bacon and sausage. Fried eggs and omelets are also available. He also said there's no waiting for breakfast.
The lunch buffet is $9.95 and changes every day, Pino said. There's fish, meat, veal, chicken soup, a variety of appetizers and desserts.
Fellini's specialty is homemade pasta and bread and there are daily specials for soup, pasta, fish and meat.
"We change all the time," he said.
There's also live music on Wednesday and Pino said they're negotiating to have an opera singer perform once per week. Those plans are pending, however.
They also do catering.
Pino said he and Franco want to get to know the people in the area and have the residents get to know them. And they have the time to do that. They have a 20-year lease on the property, he said.
"We love doing what we do. We're always creating, always something new. Come in and try. You'll love it," Pino said.
Photo: Pino, there manager at Fellini Café, has something special to serve every day.

Rich Schwartzman has been reporting on events in the greater Chadds Ford area since September 2001 when he became the founding editor of The Chadds Ford Post. In April 2009 he became managing editor of ChaddsFordLive. He is also an award-winning photographer.
Comments
comments