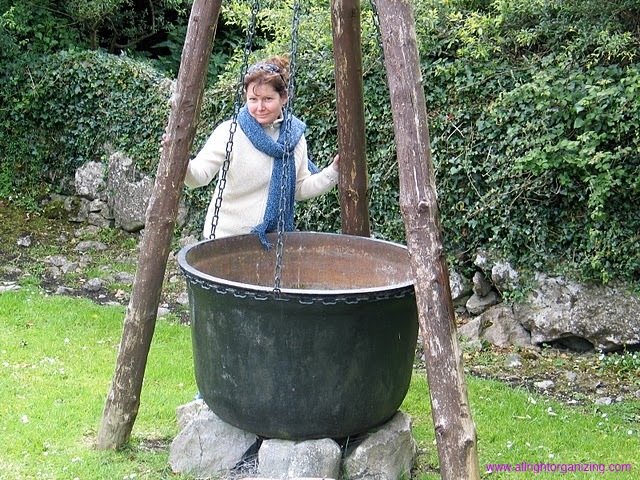 "Eye of newt, and toe of frog,
 wool of bat, and tongue of dog,
 adder's fork, and blind-worm's sting,
 lizard's leg, and howlet's wing..." ~William Shakespeare, Macbeth
Reaching into the cupboard for canned pumpkin, you come upon what appears to have been a bag of potatoes you've forgotten you bought a couple of months ago.
You go down to the basement to pull out your holiday décor and realize it will take days to even get close to the area where it is stored.
You look under a bathroom sink for the ointment you haven't used since last year when you got that blister from raking and you discover a mass of soggy toiletries.
Just because you have not actively used an area in a while doesn't mean that it has remained unchanged.  Storage spaces like basements, spare rooms, closets and cabinets can be easily overlooked when organizing or cleaning since it is not visible clutter - not in anyone's way. Besides, the everyday mass of new paper, gadgets and gizmos coming in that crowd our countertops are enough of a challenge!  Who has the time to deal with what's already stored?
It's important to be able to put away extra supplies, seasonal items, and sentimental memorabilia so that they do not impinge on our daily living.  However, as we continue to put new items in, we occasionally end up pushing older items back, back, back into the dark recesses known only to the Boogieman.  Although I doubt you'll need worry about coming across any ingredients in Shakespeare's brew, you may want to be prepared for the unexpected when venturing to take-on one of these areas.
Have trash bags on hand.  Trash inevitably shows up in spaces that have long been off your radar.   Be prepared for candy wrappers, leaky bottles of hand soap, broken hangers, and moth-eaten sweaters when addressing certain long-neglected areas.
Keep cleaning supplies nearby.  Unless your drawers, cabinets and closets are vacuum-sealed, you should, at the very least, expect a significant amount of dust.  Once you have purged any unwanted or unrelated items from the area, putting items back into a clean space will give you peace of mind and having the supplies on hand will allow you to get the job done in one shot.
Stay calm.  Occasionally you may encounter bigger issues; a leaky pipe or an infestation of bugs or rodents in spaces that you have not visited in a while.  Although these discoveries can be unpleasant and startling, ignoring them will only make matters worse.   Open a window to ventilate the area and check the Center for Disease Control Web site for step-by-step instructions for safe removal of messes such as mouse droppings and mold.
If you've seen signs of bugs or rodents, consider bringing in an exterminator first and holding off for a week or two on the organizing.  If there's a leak that you can find or fix yourself, call a plumber sooner rather than later.  Leaks and critters can do damage to your health and your home.  Take care of them before they turn into a caldron full of trouble.
Let the witches and goblins ringing your doorbell be your only scary surprise this fall season.
* To contact Annette Reyman for organizing work, professional unpacking, productivity support, gift certificates or speaking engagements call (610) 213-9559 or email her at annette@allrightorganizing.com. Reyman is a member of the National Association of Professional Organizers (NAPO®) and President of its Greater Philadelphia Chapter.  Visit her websites at www.allrightorganizing.com and www.allrightmoves.com. Follow All Right Organizing on Facebook and Pinterest.

Comments
comments