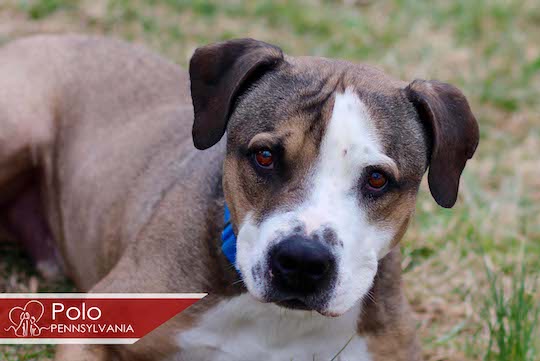 Come meet all the wonderful animals available now for adoption at the Brandywine Valley SPCA. All featured pets are "Name Your Price" adoption fee until Monday, April 3. Not ready to adopt? Then sponsor a pet and provide a safe place for our companions to rest until they find their forever homes. Help us give them a second chance at a fresh start.
POLO
Hi, my name is Polo and I am a 3-year-old male mixed breed that arrived at the Brandywine Valley SPCA as a stray. I'm so smart. I know lots of commands, and listen very well. I get along better with female dogs, and prefer a cat-free household. I would need to have the whole family to come in and meet me, furry and canine. I am neutered, microchipped and up to date on vaccinations.
TRINA
Hello there! My name is Trina and I am a 4-year-old mixed breed female. I am still a bit of a shy girl, as I did not have a lot of human interaction in my life. I came from a home where there were quite a few other dogs, but we lived every day in fear, as we were not treated as companions, but more like objects. The shelter staff thought I might do well in a foster home, to see if I could improve. When I first came to stay, I would not come to anyone, not even to get a treat, boy has that changed! My foster family shows me lots of love and shows me I can trust people and not to fear them. I also love being around other dogs, I would just need to meet them before going home with them. I am housebroken and walk very nicely on a leash. I sleep by my foster mom's bed at night and have the most adorable little hop when I am happy. I am looking for a forever home who can show me the love my foster family has shown me, has other dogs for me to play with, and has older children, preferably 10 and older, who will respect me. If you would like to know more about me and schedule a meet and greet, please call the Lifesaving Coordinator at (484)302-0864 or email mgarber@bvspca.org.
KATIE
Looking for a sweet, soft and gentle soul to light up your life? I'm your girl, You can see that life has been hard on me, but I just consider those marks of my experience and wisdom. What does get me down is that visitors overlook me as an older girl when they first see me in the kennel rather than taking a slightly longer look to see how I wiggle and waddle over with my tail beating as hard as my loving heart. Ready to put a little love in your life?
MITTENS
Greetings! My name is Mittens and I am a 4-1/2-year-old spayed female medium haired tuxedo. I was surrendered on Nov. 18 because my previous owners were moving. I am a beauty, a real stunner with a personality to match. I'm a sweet, good-natured girl who is a little reserved, but responds well to people's attention. I have fine, silky hair, easy to manage as she takes well to daily grooming. I'm an adorable love bug looking for a quieter home and somebody in need of a loving companion. Who wants some love?
DITTO
Aren't I pretty? My name is Ditto and I am a 1-year-old spayed female black/brown tortoiseshell, I was surrendered on Feb. 24 because I wasn't getting along with the other cat in the house. I love to play, but I also love my own space and prefer not to share it with another cat. I guess you could say I am a bit of a Diva. I love attention and playing with laser toys and feather wands. I am a strong willed tortie who would do best with an experienced cat family who is able to read the signs of overstimulation. Please come meet me today and see why everyone loves me.
MADAME CUPCAKE
My name might sound pretty fancy, but I'm just a sweet little lady looking for a family to call my own. I'm two years old and not quite sure what the world has in store for me. All I need is a nice scratch behind my ear to make friends. And speaking of friends, I do well here in the community room with the other cats, so I'd be open to sharing my forever home with other furries. A family with older kids might be best since I'm still getting my paws under me. Who will show me all the love the world has to offer?
See Contributors Page http://chaddsfordlive.com/writers/
Comments
comments