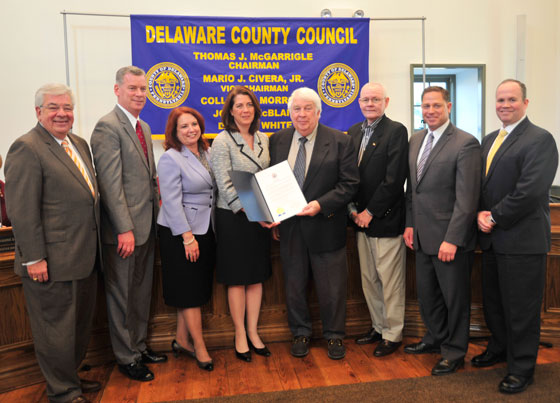 Click here to listen to report about Delco Council by Lloyd Roach direct from Brandywine Radio
• Scribner's Magazine: The Early Years in Illustration, running at the Brandywine River Museum, March 17 through May 20, highlights the illustrators who contributed to the magazine's success and presents the swift evolution of the image printing process at the end of the 19th century. Visitors will see works by Charles Dana Gibson, Thornton Oakley, Rose O'Neill, Maxfield Parrish, Howard Pyle, Frank Schoonover, N. C. Wyeth and others.

Illustrated magazines were a hugely popular form of entertainment in the days before radio and television. Through them readers were exposed to a wide variety of artistic styles and personalities. Scribner's Magazine was launched in January 1887 with the editorial promise that each issue "will be fully and handsomely illustrated by the best work of the leading artists, engraved in the most skillful manner, or reproduced by the best methods known." Only the best illustrators were chosen to meet this lofty standard.
• Penn State Extension Master Gardeners of Chester County will be holding a garden fair and sale on April 28, 9 a.m. to 3 p.m., at the East Goshen Township Building, 1580 Paoli Pike in West Chester. The event will include classes, workshops, plant sale, demonstrations, and a silent auction. A fee of $25 ($35 at the door, space permitting) provides admission to all talks and activities. The plant sale is free and open to the public.
• State Rep. Stephen E. Barrar (R-Chester/Delaware) will host his seventh annual Health and Safety Fair on Saturday, March 24, from 10 a.m. to 1 p.m. at the Upper Chichester Municipal Complex, located at 8500 Furey Road in Upper Chichester. The Health and Safety Fair is hosted in conjunction with the Upper Chichester Township Commissioners, Aqua America, Comcast and Exelon. Other co-sponsors of the event include local government organizations, area non-profit groups, state government agencies and community businesses. During the event, the Pennsylvania Farm Bureau will sponsor a food drive for the Delaware County Interfaith Food Assistance Network.
• The Chester County 4-H Poultry club will be holding an organization meeting on Saturday, April 14 from 10-11:30 a.m. at the Romano 4-H Center of Chester County on Route 82 just west of the intersection of Route 82 and 322. The 4-H Poultry club is a new club and is looking for interested youth ages 8- 18 to join the club. This is a great way for youth to learn about various types of poultry and fowl while having fun. 4-H is an educational organization for children 8-18 that promote hands on learning. For more details on the poultry club contact Jodi Peterson at 484-318-3931 or contact Toni Stuetz at the Penn State Extension 4-H office at 610-696-3500. Penn State is an affirmative action, equal opportunity university.
• Darlington Arts Center proudly presents Irish folk band Belfast Connection on Saturday, March 24 as part of their Coffee House Performance Series. A Belfast Connection show celebrates Ireland and her music from rollicking pub songs to reflective ballads. This concert will start with an open mic at 7:30 p.m. followed by the Belfast Connection at 8 p.m. Bring friends and a picnic (BYOB – corkscrew, coffee, tea and desserts provided) to enjoy this exciting performance! Darlington Arts Center is at 977 Shavertown Road in Garnet Valley, PA; for more information call 610-358-3632 or visit www.darlingtonarts.org.

See Contributors Page http://chaddsfordlive.com/writers/
Comments
comments