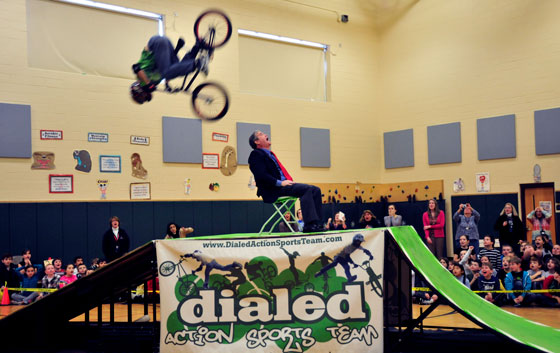 • The students at Pocopson
Elementary School got a lesson in healthy lifestyles and safety during a
special assembly on Feb. 10. The three-member Dialed Action Sports Team, of
State College, gave a demonstration of BMX freestyle bicycling that included
one member jumping a bike over three supine teachers and one team member lying
on the gym floor. Another team member then jumped his bicycle — while doing a
back flip — over Principal Andrew McLaughlin who was seated on a chair atop a
jump platform. Gym teacher Allison Tester said the assembly was designed to
promote an active and healthy lifestyle.
• Mark Gormel, horticultural
coordinator for the Brandywine Conservancy is looking for volunteers to work in
the gardens surrounding the museum buildings on Tuesday mornings. Experience
with plants is helpful, but not required. If you are interested, call
Mark at 610-388-8327.
• Residents of the
Unionville-Chadds Ford School District will have the opportunity to share their
thoughts and ideas regarding the district's 2012-2013 goals during a meeting in
the high school auditorium from 7-9 p.m. on Feb. 29, a press release said. The
district is in the process of developing next year's goals and wants input from
the entire community. Please be part of this important process by participating
in the Community Conversation. We will ask for your thoughts and ideas on how
we can best serve our students and community. Please be prepared to share your
ideas and expectations. Please sign up at: https://www.surveymonkey.com/s/HT7KLKZ

See Contributors Page http://chaddsfordlive.com/writers/
Comments
comments