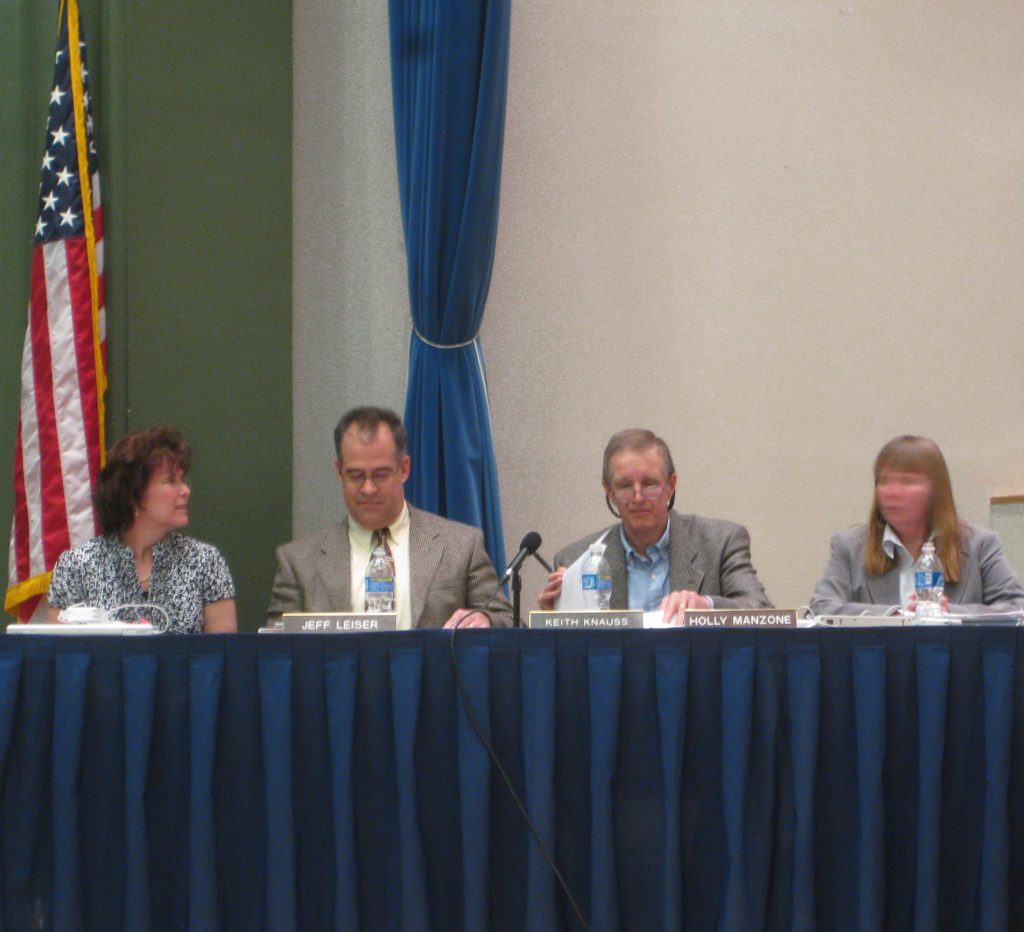 School Board Meeting at Unionville Elementary School
March 15, 2010 7:30 PM
The board was welcomed by Principal Beaver and the UES Choral ensemble. A Virtual Tour was shown which is also available on the web: http://www.ucfsd.org/vt/vt_pes.html
Resident Comments
Several residents spoke up on behalf of their favorite candidate for the school board vacancy created by the resignation of Curt Baker. Congratulations were offered to Valentina Parisi, the school board student representative, for the Philadelphia Inquirer Student Citizenship Award for 2010. Two residents expressed concern about a classroom incident when an outside speaker insulted students. The board was asked to make sure that speaker was not allowed to speak to UCF students again. The Unionville Chadds Ford Educational Foundation reported that it gave grants to students to create a web based ratio station in the high school and an edible garden in the middle school. One resident expressed concern that the board was going to make spending cuts for political expediency at the risk of degrading educational opportunities for students. Questions about the amount of the legal fees were raised by two residents.
The board will research the numbers and report back about the total legal funds. Mr. Knauss defended his pursuit of the "right to know" information as a basic right in a democracy. He also stated that although he and Mr. Hellrung campaigned against the scope of the high school renovation project, now that the contract is signed, they are dedicated to the successful completion of the project.
Board Vacancy
Candidates to fill the seat left vacant by the resignation of Curt Baker were Dr. Bennett Baird, Eileen Bushelow, James Duncan, Anna (Lele) Galer, Harry E. Miller and Bruce B. Yelton. Each board member, as they were about to vote, commented that all of the candidates were extremely qualified and were gratified to see so much talent willing to serve.
Board members voted by ballot, which were collected and read out loud. Eileen Bushelow won the five necessary votes on the first ballot. Eileen Bushelow was sworn in by school board president Timotha Trigg.
Routine Business
Financial Statements and Account Activity Reports were approved without question or comment. http://www.ucfsd.org/~boarddocs/FOV1-00037F90/FOV1-00037F94/
Mr. Murphy, reporting about facilities, asked the board to approve a construction change order to relocate a Fume Hood to the Biology Lab. Rich Hostetler explained that the hood is required in the Biology Lab and the Chemistry Lab has three, one of which they can do without. Teachers have agreed that this will not adversely impact curriculum. Although quotes are still coming in, the board approved the Change Directive not to exceed $50,000.
Mr. Knauss asked the board to approve the restructuring of 14.4 million dollars of debt into General Obligation Bonds, Series AA of 2010. This will save the school district 1.369 million dollars. The board approved.
Mr. Leiser reported the school calendar has been revised because of snow days. School will now end on June 18. May 18, a staff development day, has been reverted to a regular school day.
Mr. Leiser asked that all stake holders in the Unionville Chadds Ford School District attend a "Community Conversation" to be held April 7 at Patton Middle School from 7-9 PM. The subject will be on finance. Among the options to be discussed for increasing revenue are: naming privileges, paying for activities outside normal school hours, and identification of resources including open acreage. Among the options to be discussed for decreasing expenses are: the learning environment, student-teacher ratio, program scope, quality, and financial cost of success. There will be a brainstorming component on both the revenue and expense side. Reservations are suggested so that the district can plan for room.
Dr. Manzone asked that policies 121, 218, and 210 be approved. The board approved without questions or comment.
http://www.ucfsd.org/~boarddocs/FOV1-00037F90/FOV1-00037F94/
Mr. Murphy asked that the board approve the submission of the PSERS (Pennsylvania School Employees Retirement System) resolution urging legislative action on school employee pension reform to the Pennsylvania General Assembly. The board approved.
The meeting concluded with a request for the community to speak directly to board members about issues. Ms. Trigg stated that she and five other board members have children in the district and therefore have the best interest of students in their board decisions.

Emily Myers has lived and worked in Chadds Ford for over thirty five years.  She founded the parent company of Chadds Ford Live, Decision Design Research, Inc., in 1982.  ChaddsFordLive.com represents the confluence of Myers' long time, deep involvement in technology and community. Myers was a founding member of the Chadds Ford Business Association and currently serves on its board of directors.  Her hobbies include bridge, golf, photography and Tai Chi. She lives with her husband, Jim Lebedda, in Chadds Ford Township.
Comments
comments