Archive for April 28th, 2020
Posted by ChaddsFordLive on April 28th, 2020
Delaware County will host a Phone Town Hall Presentation for residents on Wednesday, April 29 at 3:30 p.m. Various speakers will present information on resources including mental health, drug and alcohol recovery, services for the elderly population and food resources. The presentation is open to all residents. Phone 1-833-380-0659 to take part.
Posted by Rich Schwartzman on April 28th, 2020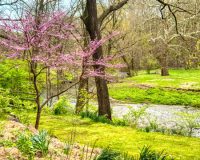 The Red Clay Creek flows passed fresh greenery and budding trees along the Pennsylvania/Delaware border.