Archive for April 8th, 2020
Posted by Karen Myers on April 8th, 2020
"We are accepting donations at the Kennett Area YMCA," said Leah Reynolds, Executive Director of Kennett Area Community Services. The Kennett Y, which has been closed down as a non-essential business, is open to allow KACS employees to accept and sanitize food donations in their gym. "We meet our donors at their cars so we can maintain social distancing guidelines." ...
Posted by Press Release on April 8th, 2020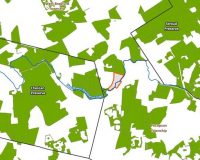 Natural Lands, of Media, announced that it has preserved the 54-acre Castle Rock Farm in Chester County. The farm straddles Pocopson and West Bradford townships along the West Branch of the Brandywine Creek in Chester County, between the ChesLen and Stroud preserves. "This farm, this land … it's too meaningful not to save it … to ensure it will always be preserved ...
Posted by ChaddsFordLive on April 8th, 2020
Pennsylvania State Police Avondale Barracks • A domestic dispute in East Marlborough Township on March 4 led to the arrest of two people. Police did not name either party in the report but described them as a 28-year-old woman and a 33-year-old man. The incident happened at 1:13 a.m. on N. Mill Road. In a separate release, police also said the woman had a Protection ...