• On Saturday, May 12, violin maker Teal Wintsch of Baltimore, Md., and David Bromberg, of Fine Violins in Wilmington, will give a lecture on the history of violin making using the Sanderson Museum's violin collection as illustrations. In addition, he will play two of the instruments that have not been heard in over 50 years. The lecture and demonstration will be presented at 2:00 in the lecture room of the Chadds Ford Historical Society Barn at 1736 Creek Road. Tickets are limited and will be sold only through the Sanderson website. www.sandersonmuseum.org
• Traditions continue at the Brandywine River Museum of Art this weekend. The first tradition is the annual Wildflower, Native Plant, Seed Sale held Saturday and Sunday, from 9:30 a.m. to 5 p.m. Admission for the plant sale is free. On Sunday, it's a Mothers' Day Brunch in the museum's Millstone Café, from 9:30 a.m. to 1:30 p.m. Cost, for members, is $25 per adult and $12 for children; for nonmembers, it's $30 and $15.
• Sunday, June 3 is a day to take a step into the past as part of Steamin' Day at Auburn Heights. Enjoy rides in historic automobiles, rides on the 1/8-sized Auburn Valley Railroad, tours of the historic 1897 Marshall Mansion and explore exhibits and activities in the Marshall Steam Museum. Sample free popcorn (steam popped, of course) while you watch a demonstration of how to set a Stanley steam car in motion, and how to crank up a Ford Model T. New this season, visit each month and enjoy our changing exhibit, Stories from Auburn Heights: Recollections of Tom Marshall which feature pictures, objects and personal stories from life at Auburn Heights, local history, the steam car hobby and more from the Weekly News newsletter written by our founder, Tom Marshall. Steamin' Day at Auburn Heights is June 3, from 12:20 to 4:30 p.m.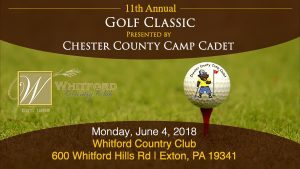 • The 11th annual Chester County Camp Cadet Golf Classic is Monday, June 4 at Whitford Country Club in Exton. The golf outing benefits fundraising for Camp Cadet. The camp is a fun and unique, overnight summer camp for kids ages 11-13 who reside, or attend school in Chester County. Camp Cadet of Chester County was established 1971, as a way to promote good relations between police and young people. To register, go here.
• It's Twisted Vinter time again. The annual fundraiser for the Concordville-Chadds Ford Rotary featuring wine, beer and food is set for 6 p.m. Thursday, June 14 in the Concordville Towncenter parking lot. Admission is $60. For tickets, go here.
See Contributors Page http://chaddsfordlive.com/writers/
Comments
comments