Welp. So much for spring. I went from using the heater to swiftly turning on the air conditioner today in my apartment. What happened to the chunk of time when you can let the breeze in and it's perfect? Oh, that was called Tuesday.
Not that I'm complaining! It's perfect weather for an art stroll and it just so happens that this Friday is the May First Friday. We've got a few things lined up for you. First, let's take a look at Wilmington. On Thursday night, Carspecken and Scott gallery will be featuring painter, Frances Roosevelt. I will get this out in the open now. Frances is my mother, and yes while I may be somewhat biased, although her work really speaks for itself. You may have seen her paintings at the Scarlett Thicket farm show which takes place every June out in Unionville.  Her pieces, usually abstractions of Chester County landscapes or her hometown Charleston, SC landscapes  are bright, vibrant and full of movement. You may view her work  at Somerville Manning as well, but this reception is an opportunity to see the artists' new work, as well mingle and enjoy a glass of wine at the reception. Stop by between 5:30 to 7:30 p.m. to meet the artist! I'll see you there.
Coming up on Thursday, will be the reception for "Nurture to Nature" at Gallery 222. This exhibition features work by painters Kristi Spillman Gilfillan and Joan Spillman. Kristi's paintings reflect the landscapes of Chester County, as well as Nantucket and Martha's Vineyard. She exhibits locally and in plein air events as well. Joan Spillman, her mother, paints oil landscapes as well, and exhibits in the mid Atlantic region. This exhibition will be on display through May 26. Join Gallery 222 to ring in the opening reception from 5:30 to 8:30 p.m. on Thursday, May 3rd.
Friday, we have a lot going on. Station Gallery, in conjunction with the Wilmington Art Loop, will be hosting a reception for their upcoming show "Variations"  New Pastels by Mary Pritchard. Pritchard is a landscape artist who has mastered the medium of oil pastels. Full disclosure, oil pastels have always proved wildly difficult for me, so I applaud this. Station Gallery describes this show: "Variations explores favorite themes and landscapes from different angles, seasons, and times of day. Scenes from coastal Maine; barns of Chestertown, Maryland; and river grasses and reflections are included in this solo exhibit." Pop by this reception from 5 to 8 p.m.
Delaware Contemporary will be unveiling four new shows during the Wilmington Art Loop, so be sure to take in their offerings this Friday. First, the exhibition "Don't Look For Me," featuring Kenny Rivero will be on display. This exhibition has an interactive quality leading up to it as the artist will be painting live in the Avery Draper Gallery where attendees will have the opportunity to meet him. His work, dark and cryptic, reminds me a bit of Basquiat's paintings mixed with a little Miro.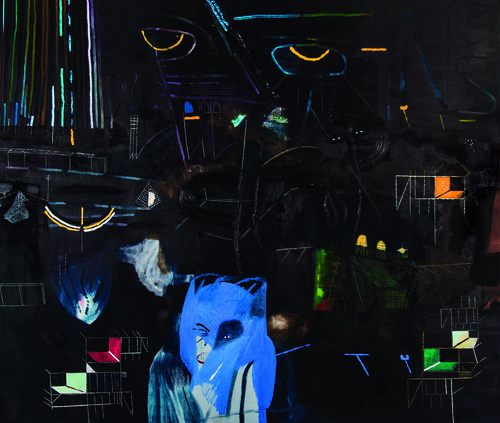 His large oil and acrylic paints read like a ransom note, or hieroglyphics. The playful, bright colors mixed with the sinister vibes either from the jet black canvas or the nefarious looking creatures he creates, really appeal to me personally. I enjoy a good contradiction, and Rivero's work appears to be just that. He will finish up his live drawing at 5 p.m. May 4th just in time for the reception.
Installation artist Jennifer Borders will introduce her new installation, "I Hear America Singing." The piece incorporates video art, as well as audio transcriptions of protest poetry. Famous protesters and poets both historical and modern will be featured including: Walt Whitman, Maya Angelou, Carl Sandburg, Langston Hughes, the student Emma Gonzalez and more.
Check out the University of Delaware Master of Fine Arts Exhibition entitled "Cadence" as well. This group exhibition features Dona Altemus, Lisa Bennett, Rayna DeReus, Daniel Dias, Phat Le, Townley Mateson, Celeste Morton, Kate Testa, and Simone Welsh. While you're there check out the 2018 Friends Juried Exhibition. The show is put on by  The Creative Vision Factory's Michael Kalmbach featuring Friends of The Delaware Contemporary. Artists Paula Cahill, Brian Conaty, Phyllis Gorsen, Suzy Kopf, and Gregg Morris. The linear, and geometric themes of this exhibition unite all of the contributing artists.
Really quickly, let's pop on over to West Chester. Art Trust will be hosting a preview of the Chester County Studio Arts Tour Friday May 4th from 5 to 9 p.m.   The Tour a great event that I will cover more extensively next week. Check out this reception which features work by participating Chester County Studio Arts Tour artists! The Tour will be happening May 19 and 20th.
As always, tune in to WCHE 1520 AM for Art Watch. This Wednesday join Margaret Winslow, Curator of Contemporary Art at The Delaware Art Museum as she hosts Delaware Contemporary's  Joseph Gonzalez & Morgan Hamilton. Until next time!

Caroline​ ​Roosevelt​ ​is​ ​a​ ​writer​ ​and​ ​artist​ ​based​ ​in​ ​Kennett​ ​Square,​ ​PA.​ ​She​ ​received​ ​her​ ​B.A.​ ​in Art​ ​History​ ​from​ ​Connecticut​ ​College​ ​and​ ​a​ ​Post​ ​Baccalaureate​ ​certificate​ ​from​ ​Pennsylvania Academy​ ​of​ ​Fine​ ​Arts.​ ​She​ ​has​ ​previously​ ​written​ ​art​ ​coverage​ ​in​ ​Seattle,​ ​WA​ ​and​ ​Philadelphia, PA.​ ​She​ ​currently​ ​co-hosts​ ​Art​ ​Watch​ ​radio​ ​on​ ​1520​ ​WCHE.
Comments
comments