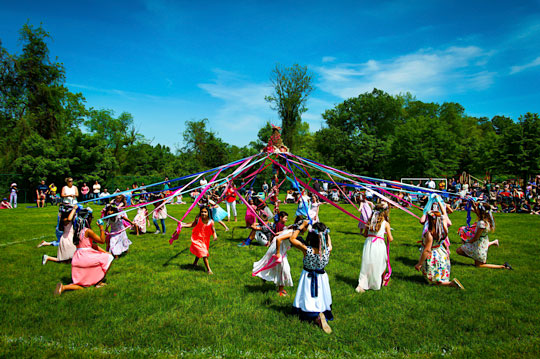 Third-graders at Chadds Ford Elementary School sang a song during May Fair that many people likely hope to be at least partly prophetic. The tune was "It Ain't Gonna Rain No More."
Considering the weather on May 20 was sunny and warm and offset weeks of gray, dreary and wet weather, the day, the song and the sunshine were greatly appreciated. There was no need for any concern for a rain date — though there were preparations.
The 67th annual May Fair had all the ingredients of what has become the norm. Each of the grades sang a song, while the third-grade took part in the Parachute Party and the third-grade girls danced around the Maypole.
And the parents did what parents do, wave to their kids and took photos of them during their performances.

Rich Schwartzman has been reporting on events in the greater Chadds Ford area since September 2001 when he became the founding editor of The Chadds Ford Post. In April 2009 he became managing editor of ChaddsFordLive. He is also an award-winning photographer.
Comments
comments