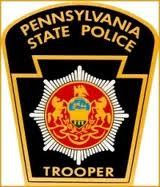 • State police from Troop K, Media barracks, charged two teenagers in connection with a robbery at Garnet Valley High School. The suspects were identified as Mark Eisenhower, 19, and Wyatt Weible, 18, both of Garnet Valley. According to the police report, the two forced their way into their former high school during the overnight hours of May 11, causing significant vandalism and damage throughout the school, as well as stealing computers and laptops before fleeing. They were charged with burglary, criminal trespass, institutional vandalism and other offenses.
• Charges of making terroristic threats were pending against a male juvenile, a police report said. The unidentified youth, police allege, made threats against the school through the social media app, Whisper. The juvenile was taken into custody and questioned. While it was determined that he is no longer a threat, the investigation was continuing.
• Edward M. Jordan, 54, of Coatesville, is accused of DUI, harassment and trespassing, said state police from the Embreeville barracks. Police allege that Jordan drove his all-terrain vehicle while intoxicated onto a property in the 1500 block of Embreeville Road in Newlin Township on April 22 at 10:58 a.m. He then made sexually suggestive comments to the victim and attempted to strike her with his fist, police said.
• New Garden Township police arrested Ashleigh Farling, 23, of Landenberg on DUI charges, a police report said. According to police, Farling was observed driving erratically in the 800 block of Penn Green Road at 11:12 p.m. on May 5. A traffic stop was attempted on Starr Road, but the vehicle continued to Newark Road where the driver finally complied with the command to stop. The report said the arresting officer smelled alcohol saw an empty container of alcohol. A field sobriety test confirmed impairment, the report said.
• On Sunday, May 8, at 1:23 p.m., New Garden police responded to the unit block of Wilkinson Drive for the report of a domestic disturbance.  Upon arrival, the victim related that Joanna McCauley, 31, of Middletown, Del., was trespassing after being ordered by the police to not return to the residence.  McCauley was contacted and advised she was going to be receiving a citation for criminal trespass and if she returned she would be arrested.
• State police are looking for a silver SUV believed to be a getaway for two people who stole $40 worth of merchandise from the Walmart in East Marlborough Township on May 7. Anyone with information is asked to call the Avondale barracks at 610-268-2022.
• Devon Moses-Johnson, 19, of New Castle, was arrested in Kennett Township for possession of a small amount of marijuana on May 5, a police report said. According to the report, the arrest was made incidental to a disabled vehicle check on Route 1 south of Parkersville Road at 7:30 p.m.
See Contributors Page http://chaddsfordlive.com/writers/
Comments
comments