• The Concord Township Government Study Commission will hold a public hearing on May 13 to take comment on whether the commission should recommend maintaining Concord as Township of the Second Class; institute a referendum as to whether the township should operate under one of the optional plan forms of government available under the Pennsylvania Home Rule Charter and Optional Plans Law; or proceed to develop a home rule charter for consideration by referendum. The hearing is scheduled to begin at 7 p.m.
• The Delaware County Historical Society presents the First Ladies of Rock and Soul in concert this Saturday, May 2, at the Pennsylvania Institute of Technology, 800 Manchester Avenue in Media. Joining the First Ladies will be Tommy McCarthy from WOGL and Steve Kurtz from Cruisin' 92.1. Tickets are $35 and are available on line at www.delcohistory.com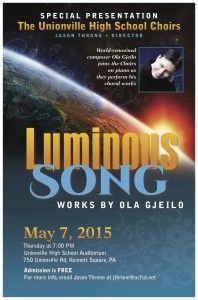 • Grammy Award-winning choral composer Ola Gjeilo will join the Unionville High School Choir for a performance of his choral works on Thursday, May 7 at 7 p.m. Gjeilo offered to attend the spring performance after viewing a video recording of the UHS choir performing his Sanctus: London in December. Music Director Jason Throne sent the recording and said, "I almost fell out of my chair he offered to attend our spring performance." Gjeilo, who was born in Norway, came to the U.S. to study at the Julliard School in New York. He will rehearse with the students and perform with them on stage.
• Darlington Arts Center welcomes Homegrown String Band, the "family that plays together," for an evening of high energy American folk music on Saturday, May 9, at 7:30 p.m. The Homegrown String Band acoustic trio, which consists of Rick, Georgianne, and Annalee Jackofsky, will be performing a selection of original and traditional music, as well as a few tunes by American music icons like Jimmie Rodgers, Leadbelly, The Carter Family, and Bob Dylan. This event begins with an open mic at 7:30 p.m. followed by Homegrown String Band at 8. Tickets are $15, $10 for members, and include free coffee, tea, and desserts. BYOB – corkscrew and glasses are provided. Advance purchase is strongly recommended. Tickets can be purchasing by calling 610-358-3632 or visiting www.darlingtonarts.org.
• Starting once a week in May, the Kennett Area Senior Center sponsors Zumba! Join the fun on Tuesday evenings, 5:30 to 6:30 p.m., with professional instructor Kim Malone. The class is open to all ages: teens through seniors. Come check out a class ($8 drop in fee) or just sign up for a 10-class session ($59/adult, $49/age 15 and younger).
• The Brandywine Conservancy and Museum of Art continues its Mothers' Day tradition with the annual Wildflower, Native Plant and Seed Sale Saturday and Sunday, May 9 and 10, from 9:30 a.m. to 4:30 p.m. each day. This annual event offers a wide variety of regional plants and seeds - many not available in retail garden centers - which are great for all types of gardens – sunny, shady, damp or dry. Conservancy staff and volunteers will be available to answer questions, help in the selection of plants, and provide planting instructions. Plant-lovers can also purchase wildflower seeds that have been collected from the conservancy's own gardens and meadows, then cleaned and packaged by garden volunteers.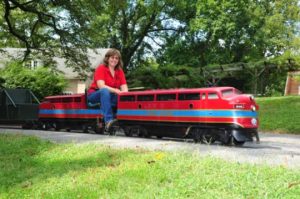 • The Marshall Steam Museum at Auburn Heights Preserve in Yorklyn is looking for volunteers to take part in a variety of projects. To that end, the museum is holding a volunteer meeting and open house beginning with refreshments and a newcomers' tour at 6:30 p.m. on May 5. The meeting begins at 7 p.m. Auburn heights is located at 3000 Creek Road (Route 82) in Yorklyn. To learn more, visit AuburnHeights.org.
• The Brandywine River Museum of Art and Chadds Ford artist Karl Kuerner are teaming up for art classes at the Kuerner Farm. Classes are scheduled for Tuesdays, May 19 through July 7, from 11 a.m. to 1 p.m., and Thursdays, May 21 through July 9, 6 to 8 p.m. Costs for the program are $200 for members, $250 for nonmembers. Class size is limited. To register, phone 610-9388-8326 or visit https://335.blackbaudhosting.com/335/Art-Class-with-Karl-J-Kuerner. Participants must bring their own materials and should dress for the outdoors. The first class will be at the museum.
• The Chadds Ford Business Association is again helping the Brandywine Battlefield Park with its annual baseball with the Blue Rocks on Friday, June 26. Game time is 7:05 p.m. and there are fireworks after the final out. Tickets are $20 each. A corporate sponsorship is $200 and includes 10 tickets. To benefit the Friends of Brandywine Battlefield, buy tickets at https://chaddsfordlive.com/shop.

See Contributors Page https://chaddsfordlive.com/writers/
Comments
comments