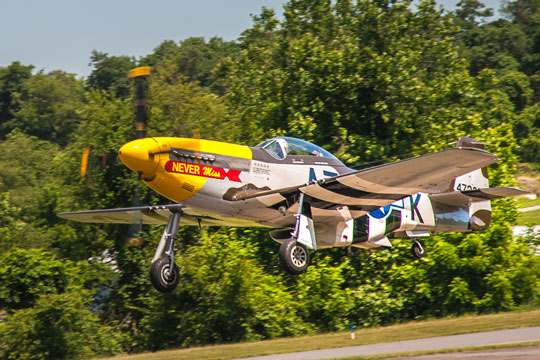 Military aviation history buffs had a Fathers' Day treat waiting for them at the New Garden Flying Field.
Sitting on the tarmac, with it's bright yellow nose and four bladed prop glistening in the bright, mid-June sun, sat a P-51 Mustang, one of the most iconic fighter aircraft of WWII.
While the plane on hand was built during the war, it never saw combat. But it was modified to include a passenger. The originally installed auxiliary gas tank had been removed and a second seat put in behind the pilot. Enthusiasts took advantage by getting rides in the plane, much to their delight.
Bruce Roberts, an aircraft mechanic at New Garden was all grins when he alighted from the craft.
"It was a blast," he said.
Roberts previously went up in another fighter, the P-38 Lightening, but this was more enjoyable for him. He actually had the opportunity to operate the craft from the backseat controls.
Carl Spirito, whose father flew B-17s during the war, is a private pilot from Philadelphia. He called his ride "fantastic."
"I've got more than 3,700 hours in the air and this was my best flight. I've flown about 30 different aircraft, [but] this is an honest airplane," Spirito said.
He explained that the plane responds immediately to whatever the pilot does to the controls. With many other craft, he said, there's a delay of up to two or three seconds, not so with the Mustang.
"This is a real nice airplane. If I had the money, I'd try to buy it," he added.
The day was made possible through the efforts of sponsor Jim Rudolph and aircraft owner Dave Murphy and his son Mark who was the pilot.
Rudolph said he likes making people's dreams come true. For some though, "this wasn't even on their bucket list,' he said. "I wanted them to experience flying something that has more than 1,000 horse-power."
Rudolph became fascinated with aircraft as an 18-year-old naval reservist assigned to submarine duty in 1951. When the Korean War broke out, he requested a transfer to aviation. He got the transfer, but was not allowed to attend flight school in Pensacola because he was already married. Instead, he worked on the ground with aircraft ordnance.
Delivering those 1,000 horses of power is a Packard-built Rolls Royce V-12 Merlin engine. With a length of 32 feet and a wingspan of 37 feet, the plane was also outfitted with six .50 caliber machine guns. This P-51D was one of about 8,000 of this version of this classic aircraft (out of a total of 15,000 built) that served in all theaters of war around the world.  With a bomb capacity of 2,000 pounds and its cruising speed of 275 mph, it was one of the greatest flying machines of the Second World War.  Few Luftwaffe aircraft could match the P-51D; it was credited with downing 4,950 enemy aircraft in air combat, more than any other US fighter in Europe.
New Garden Flying Field is the home to 120 aircraft and provides a local resource for transportation, education, entertainment and industry. While the Field is a full service, general aviation facility with hangers, aircraft maintenance and inspection, glider towing and pilot training, Airport Manager Jonathan Martin, believes that one of his key roles is "to spark the interest of young people, develop their passion for aviation."  He said that he "wants to expose people to what we do here at New Garden and to the field of general aviation as a whole."
To fulfill this aspect of the field's mission, the airport sponsors a number of events each year to educate and entertain the public. Perhaps the best known is the annual "New Garden Festival of Flight Air Show" to be held this year – for the 43rd time – on August 23 and 24.  The event includes aerial demonstrations of new and vintage aircraft, radio controlled miniatures and displays of unusual and experimental aircraft on the field.  In addition to aviation themed booths, which provide information on pilot training and general aviation matters, there are flying-related souvenirs, food vendors, and antique cars, music and entertainment.
A more recent innovation, now in its sixth year, is the Future Aviators' Camp.  The camp offers young people the excitement and discovery of aviation in a day-camp setting, designed for ages 7-15.
For more information on the New Garden Flying Field, the Festival of Flight Air Show, the Future Aviators' Camp or the New Garden Flight Connection, see www.newgardenflyingfield.com/, call Jon Martin at (610) 268-2619 or visit the field at 1235 Newark Rd, Toughkenamon, PA 19374.
Rich Schwartzman added content and the photography  for this story. 

Mr. Trozzi currently provides interim Chief Operating Officer/Chief Financial Officer services and project management support and analysis to for-profit and nonprofit clients through his own consulting company. He also serves on the finance committees of several for-profit and nonprofit organizations. Mr. Trozzi began his career in management consulting where he specialized in government, educational and medical clients and the retail industry. He later assumed senior financial positions in the retail industry for The May Company – Cleveland, The Sherwin-Williams – Stores Division, C&J Clark Retail, Inc. (the holding company for the Bostonian, Hanover and Clark Shoe chains), The Watch Hill Group, and Brooks Fashion Stores. He was then recruited by the president of the Planned Parenthood Federation of America (PPFA) to be its Chief Financial Officer since she saw her 900 health care facilities as a retail chain operation and wanted someone who shared her vision. Mr. Trozzi left PPFA several years later to become the Chief Financial Officer of an Internet company, Spree.com, which expired when the Internet bubble burst. While he was looking for another interesting senior financial position, industry friends asked him to do some projects which turned into a thriving consulting business where he served as the Interim COO or CFO for clients like Amnesty International of the USA, The After-School Corporation (TASC), the national office of the YWCA and EngenderHealth, Inc. an international reproductive rights and family planning services nonprofit which was founded over 65 years ago and has operated in more than 40 countries around the world. After seven months as the Interim CFO of EngenderHealth, Mr. Trozzi joined the staff as a regular employee and 14 months later was promoted to the position of Vice President of Operations & Chief Financial Officer. Mr. Trozzi has a Bachelor of Science degree in Physics from the Polytechnic Institute of Brooklyn and a Science Masters in Management from the Massachusetts Institute of Technology. He and his wife Cheryl live in Chadds Ford, PA and participate in local civic and historic activities and 18th century re-enactments. Mr. Trozzi also holds a commercial pilot's license. Trozzi performs a variety of tasks for Chadds Ford Live which include writing the occasional article and helping with pre-publication tasks.
Comments
comments