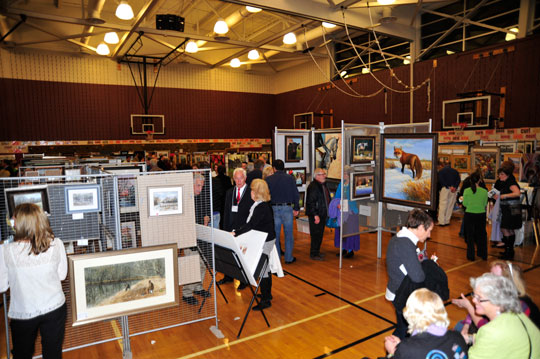 The 65th annual Chadds Ford Elementary School Art Sale and Show drew a huge audience as it usually does. Hundreds of art lovers and fans mingled with popular professional artists whose sales benefit the school's PTO and art programs.
As previously reported, this year's event was dedicated to the late Paul Scarborough who frequently offered his talents to art projects at CFES. Many of Scarborough's relatives manned a stall where his works were displayed for sale.
Also this year, Victoria Wyeth spoke for about an hour, relating stories about her grandfather, Andrew Wyeth, and her uncle, Jamie Wyeth. She also revealed what is was like to grow up in the Wyeth family:
"It was like living in a museum where the show changed every day."
Local artists this year included Chadds Ford artists Judy McCabe Jarvis, Barbara Tlush and Nancy and Gerry Dowling.
New for this year were the still life works of Chadds Ford photographer Rob Porter, but Porter was not the only photographer who showed this year. Robert Lott showed his skill with the modern technique of High Dynamic Range photography while Steven Miller displayed his older school, black and white images.
In addition to getting 25 percent of the proceeds from the sale of art, the PTO also raised money through raffles for donated products and services.
But at least one artist donates her earnings to another cause. Susan Stefanski, of Havertown, has been painting since 1999 while still a secretary at Villanova University. She said she took a class in oil painting and fell in love with the art.
She left the job at Villanova in 2006 and began painting full time. But her artistic spirit is not the only part of her spirit that she's nurturing. Stafanski said she found another side of her calling as she was painting religious icons.
"I was feeling guilty having so much fun and thought there must be a reason I found this late in life…I was saying my prayers and I said to [St.] Michael, 'You told Mary what she was supposed to do, what am I supposed to be doing?' Then along came this missionary who was talking about the poor in Tanzania and I thought that's what we're supposed to do," she said.
Since then, Stefanski has donated to charity 20 percent of the money she makes from her painting.

Rich Schwartzman has been reporting on events in the greater Chadds Ford area since September 2001 when he became the founding editor of The Chadds Ford Post. In April 2009 he became managing editor of ChaddsFordLive. He is also an award-winning photographer.
Comments
comments