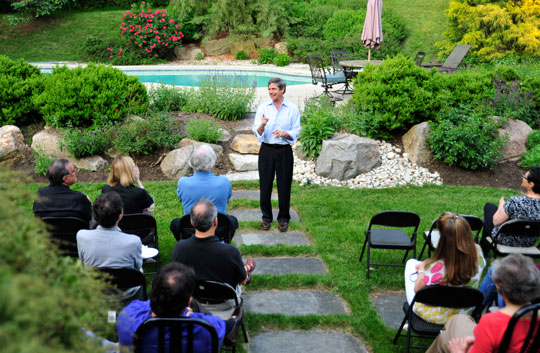 Rhona Klein kicked off her campaign for Chadds Ford supervisor with a fund-raiser plus meet and greet at her home on May 29. Among the roughly two-dozen attendees was former U.S. Rep. Joe Sestak who is looking to challenge U.S. Sen. Pat Toomey in the 2016 senatorial election.
Klein will face Republican Frank Murphy in the November general election.
One of the themes brought up was that of frustration. Both Klein and her campaign manager, Jesse Sheppard, said there is frustration in the township, even with among Republicans, over some of the things that have transpired.
Klein said much of that has to do with the hiring of a township manager who she has called incompetent and ill prepared for the job. She said that situation cost the township hundreds of thousands of dollars in uncollected taxes.
"The frustration is with the incompetence of the supervisors overseeing the township staff. You appoint people who are ill prepared, unqualified to be in a very important position and they upset people. Yes, Joe Barakat is gone, but he was removed after Republicans got outraged and complained," she said.
Klein's candidacy this year was somewhat opportunistic. She lost to Deborah Love in 2007, but Love did not get the Republican Party endorsement for another term. That endorsement went to Murphy instead.
The Democrat said she would not have run if Love, a two-term supervisor, were seeking re-election because Love helped Klein out with personal family matter.
That, however, was not the only reason Klein chose to run.
"I was very upset by what was happening as I find out more and more about the situation with the $450,000 in uncollected taxes…When I heard Deborah wasn't running, it put me over," she said.
Klein thinks she can bring much to the table during the election. She said her strong points include 15 years of experience working for local governments, a master's degree in public administration and believes she is well versed in issues that face local governments, including environmental, personnel and budgeting issues.
According to Sheppard, the night was a simple kickoff for the campaign to help get Klein's name out, let people know she's running and, of course, to raise some money.
Sheppard said there was no monetary goal in mind for the event, and said the campaign is in good shape now, but there will be more competition for money from county candidates as the election draws closer.
He said it's also important for the campaign to reach out to Republicans.
"In the school board election, we won because people were frustrated, legitimately frustrated parents who were independents and Republicans and they supported us. We have to do the same thing here because there are just as many legitimate reasons to be frustrated with the way the Republicans have been running the township."
He also said that there are many Republicans who "pride themselves on splitting their vote, who really do weigh the candidates and don't just always vote the party. It's part of their DNA and that bodes well for us if we can figure out how to find them."
Sestak was on hand to support Klein.
"Not as a Democrat. I'm out here because what she speaks about is being an American before you're partisan [sic] to the point where you work together as a community. That kind of principled compromise is absent in elected officials today," Sestak said.
Speaking briefly about his own future, the retired admiral and former two-term representative said he's serious about running for the U.S. Senate again. He's established an exploratory to that end.
"I believe the greatest harm to Pennsylvania is the lack of the Senate to govern," Sestak said, "because they never act unless there's a crisis. Therefore, we're going from crisis to crisis, lurching from crisis to crisis and that's lost the trust of Americans."
Sestak lost to Toomey in 2010.
Feature photo: Retired admiral and former U.S. Rep. Joe Sestak addresses a gathering of Rhona Klein supporters.

Rich Schwartzman has been reporting on events in the greater Chadds Ford area since September 2001 when he became the founding editor of The Chadds Ford Post. In April 2009 he became managing editor of ChaddsFordLive. He is also an award-winning photographer.
Comments
comments