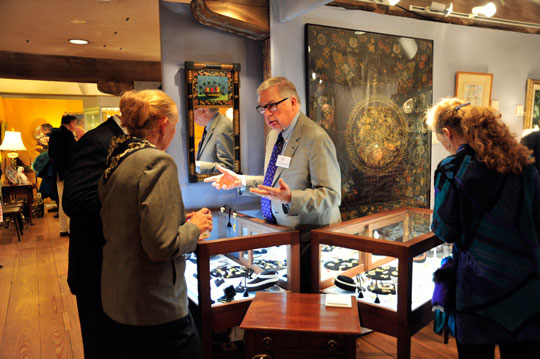 Part of the Memorial Day weekend tradition in Chadds Ford is the annual Antiques Show at the Brandywine River Museum. More than 30 exhibitors displayed their wares over the weekend. They came from as far away as Michigan, Maine and Virginia. Many of the exhibitors have coming to the Antiques show for years.
Ed Weissman, of Ed Weissman Antiques from Portsmouth, N.H., has been showing at the museum for at least 20 years. He called it a great location with a great staff and shoppers willing and able to buy.
The museum's cut of the money raised go toward acquiring more art.
Coinciding with this year's event — the 42nd year — was the opening of a new exhibit, Which Way the Wind Blows, featuring antique American weathervanes dating back to the early and mid 19th century, running through July 28.
The exhibition includes 28 weathervanes that showcase a selection of the forms popular in this country, including several with equestrian designs. There is also a local weathervane — on loan from the Chester County Historical Society — that once sat atop the cupola of the Chester County Prison.
Upcoming exhibits
• This weekend, June 1 and 2, members of the Brandywine Bonsai Society will demonstrate training techniques and answer questions regarding special care of bonsai trees. The event will be in the museum courtyard.
• Beginning June 15 and running through Nov. 17, the museum will be exhibiting paintings by Jamie Wyeth and Rockwell Kent. Called "Monhegan," the five-month long exhibit will feature works dealing with Monhegan Island off the coast of Maine. The island held a fascination for both artists, though they never met.
• Two curator's tours are on tap for the summer. Assistant Curator Amanda Burdan will lead a tour of the Monhegan exhibit on June 26.  On July 10 she will lead a tour of the weathervane exhibit.
• On June 20, Action News 6 ABC meteorologist Chris Sowers will talk about weathervanes and participants will make their own wind-catching weathervanes.
• This fall, on Oct. 4, Burdan and museum Director Tom Padon will host a conversation with Jamie Wyeth. More details of that event are to be released later this summer.

Rich Schwartzman has been reporting on events in the greater Chadds Ford area since September 2001 when he became the founding editor of The Chadds Ford Post. In April 2009 he became managing editor of ChaddsFordLive. He is also an award-winning photographer.
Comments
comments