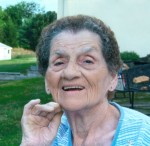 Splendora "Dora" Malchione, 92, of Kennett Square, died Friday, June 22, , surrounded by her children, at the Neighborhood Hospice in West Chester. She was the wife of Mario R. Malchione who died in 2006, and with whom she shared 64 years of marriage.
Born in Wilmington, she was the daughter of the late Colombo and Esther Caruso DiBattista.
Dora worked for many years at M.G.A. Canning Co. in Kennett Square, leaving in 1969.
She enjoyed cooking, especially making pizzelles, biscotti and zucchini bread, doing search-a-word puzzles and spending many memorable moments with her family and friends reminiscing about the "good old days".
Dora is survived by one son, Anthony J. Malchione and his wife Joyce of West Grove; one daughter, Patricia A. Malchione of Kennett Square; three brothers, Anthony , Victor (Antoinette) , and Rinaldo (Carol) DiBattista, all of Wilmington; three grandchildren, Michael Malchione and his wife Karen of Landenberg, Tina Torello and her husband Christopher of Landenberg, and Vincent Malchione and his wife Kimberly of West Grove; seven great-grandchildren, Marissa and Nicholas Malchione, Matthew and Courtney Torello, Taylor, Jordan and Morgan Malchione, and many nieces and nephews.
She was predeceased by one brother, Gaetono and one sister Vera.
You are invited to visit with her family and friends from 8 to 9:30, on Monday morning, July 2, at the Kuzo & Grieco Funeral Home, 250 West State Street in Kennett Square, (Phone: 610-444-4116). Her Mass of Christian Burial will be at 10 a.m., at St. Patrick's Church, 212 Meredith Street in Kennett Square. Burial will be in St. Patrick's Cemetery.
The family wishes to thank everyone who came to visit, as well as the staff at Chester County Hospital and Neighborhood Hospice for their compassionate and professional care.
In lieu of flowers, a contribution in Dora's memory may be made to Neighborhood Hospice, 400 East Marshall Street, West Chester, PA 19380.
Online condolences may be made by visiting www.griecocares.com

See Contributors Page http://chaddsfordlive.com/writers/
Comments
comments