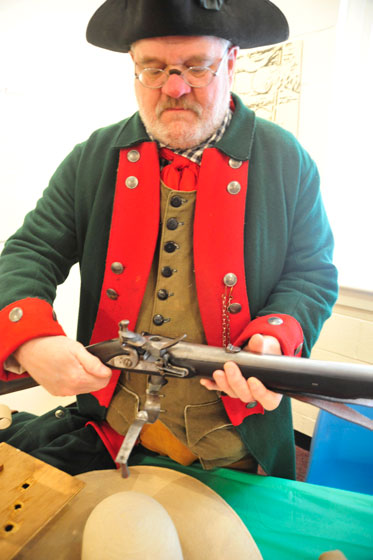 Brandywine Battlefield Park
reopened with a bang on March 11. The park, situated on Route 1 in Chadds Ford
Township, hosted a lecture and demonstration on the Ferguson Rifle, first used
in combat during the 1777 Battle of Brandywine.
The weapon, which features a
rifled barrel and breach loading, was the design of British Capt. Patrick
Ferguson, a man who could have ended the colonials' bid for independence during
the battle had chivalry not caused him to withhold firing.
As the story goes Ferguson and
others equipped with the superior weapon had two American officers in their
sights from a tree line but, since British rules of engagement frowned upon
officers killing one another, Ferguson himself stepped out from behind the
trees and ordered the men to advance and surrender. One officer beat a hasty
get away on horseback while the other, "a tall officer" rode calmly away.
Ferguson didn't fire because he
thought it would be too much like murder, as he wrote in a letter to his
sister. But that officer who calmly road away was Gen. George Washington.
Had Washington known that the
weapon pointed at him was a rifle, he might have ridden away faster.
The British military musket
known as the Brown Bess was accurate to 80 yards while the Ferguson rifle was
accurate up to 300 yards. The rifle — with its breach loading — could also fire
up to six or seven rounds per minute while a good musketeer could get off only
three shots in that amount of time.
The story was told at the park
by Bryan Brown who, along with Ricky Roberts, gave a brief shooting
demonstration of the rifle. Included in the demo was a speed competition
between Roberts with his Ferguson and local re-enactor Brian Wolfe with a
replica Brown Bess.
Brandywine Battlefield Park has
been operated by the Brandywine Battlefield Park Associates since the state
stopped funding operation in August of 2009. It was closed in December for the
winter. It's now open on the weekend and will later open four days per week.
Also during Sunday's
attractions were guest lecturers John Graf and Gene Pisasale.

Rich Schwartzman has been reporting on events in the greater Chadds Ford area since September 2001 when he became the founding editor of The Chadds Ford Post. In April 2009 he became managing editor of ChaddsFordLive. He is also an award-winning photographer.
Comments
comments