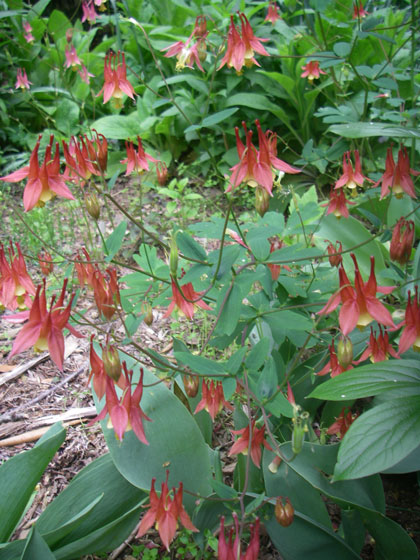 What's all this fuss about native plants? Aren't they weedy, unattractive, and difficult? No, no, and no.
A native plant is simply a plant that grew here before the European settlers arrived. In other words, these are plants that did just fine in your backyard without irrigation systems, fertilizers, pesticides, and lawn services. Native plants can be trees, shrubs, ferns, vines, grasses, annuals, biennials, perennials, or bulbs. They are (with very few exceptions) not weedy, can be very attractive, and are nearly all easy.
· Native plants are suited to our climate and to the whims of nature frequently encountered here. In times of drought, they may be the only plants doing well. In seasons of excessive moisture they may not do as well, but will usually still outlast exotics (non-native plants).
· Native plants have evolved over the centuries with the insects, animals, fungi, and other life forms occupying the same area. By using native plants, you help maintain a healthy biodiversity.
· Native plants are beautiful. For nearly any exotic plant, there is a native plant alternative that provides similar color, texture, or habit.
· Native plants attract wildlife. If you enjoy birds, butterflies, bees, small mammals, and other creatures, plant native plants. These plants provide their food, shelter, and nesting areas.
· Native plants do just fine in our natural, unimproved clay soil. You do not need to (and shouldn't) add nutrients, soil additives, or other materials to the soil.
· Native plants are cheaper to maintain. Once established, they do not need additional water or fertilizer and can generally tolerate indigenous insects without substantial damage.
· Native plants require less maintenance. Unlike many exotic plants, they generally do not need pruning, deadheading, watering (once established), or other care.
Once you see how many wonderful native plants there are, think about the countless ways you can use them. Here are a few suggestions:


Replace lawn areas with low-maintenance native groundcovers


Create a butterfly garden that provides food for caterpillars as well as nectar for adult butterflies


Replace invasive and exotic plants with native substitutes


Use native plants in wet areas, rain gardens, or areas prone to run-off


Establish a native plant woodland with lush ferns, spring wildflowers, and woodland groundcovers


Build a wildlife pond, with native water plants


Join with one or more neighbors to create a native meadow or woodland that connects through your backyards.
As with any plant, take care to match the right native plant to the right site on your property. Walk through Peirce's Woods or the meadow at Longwood or visit Mt. Cuba at varying times of year to see native plants in garden settings. As you walk through natural areas (parks and nature preserves) look for native plant communities and observe which plants tend to grow together (but don't take plants from the wild). Note plants that grow near pond edges, in low areas, or in wetlands, as well as those that always seem to be high and dry. You will find some plants soaking up the sun and others staying cool in the shade. These are the conditions you will want to try to duplicate when you put them in your garden.
When you shop for native plants, keep in mind that some nursery plants may be labeled "native" if they are native to the United States, but a plant native to Arizona, or even Missouri, may not be appropriate for a garden in Chester County. When choosing native plants, be sure to ask whether they are native to our area.
A good source for plants is a local native plant sale, such as the one hosted by the Brandywine River Museum every spring. It can be great fun to discover "new" native plants at these sales and the volunteers are generally quite knowledgeable and able to answer questions. One word of warning though: once you get started using native plants in your garden, you may find yourself saying, "I think we're going to need a bigger yard…"
Consult field guides such as Newcomb's and Peterson's Wildflower Guides to identify native plants. There are also native plant societies and seminars you can attend to learn more about native plants.
* Nancy Sakaduski is the Chester County Master Gardener Coordinator. Master Gardeners are trained volunteers who educate the public on gardening and horticultural issues. In Chester County, they operate through the Penn State Cooperative Extension office in West Chester. Nancy lives in Pennsbury Township. She can be reached at nds13@psu.edu.

Nancy Sakaduski is a Master Gardiner with Penn State Extension of Chester County.
Comments
comments