Brandywine View Antiques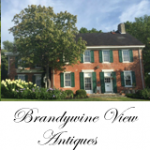 Quality Antiques, Furniture, Jewelry
When you come visit Brandywine View, "Three Floors, Have Fun!" is what you'll hear as you walk in the door. There is something for everyone, whether you're looking for antiques, vintage, handmade, salvage, upcycled or fare from local vendors. We strive to do our best to find the unique items and hidden gems that our customers will just have to take home with them!
Our new saying is: "enter as strangers, but leave as friends." And I can honestly say, that after 20 years of growing my business along Rt 1, many of our customers have become friends. So, next time you're in the Brandywine Valley, make sure you add us to your list of places to visit! Stop in to see what everyone has been talking about, with fabulous vendors, fresh lines… it's well worth the trip!
Three floors filled with Antiques
Wednesday – Sunday: 10:00 am to 5:00 pm
Send Message
Please
log in
to be able to send messages to the listing owner.