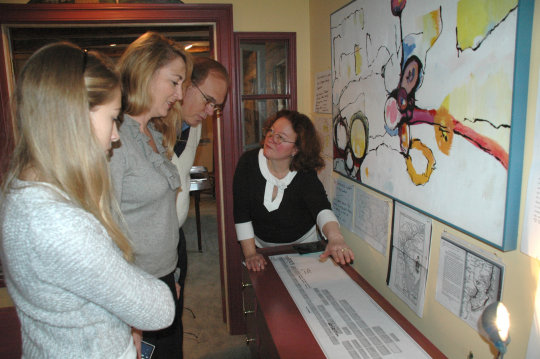 Some people buy homes for shelter, others for investments or tax write offs. Sometimes there is serendipity in the purchase. Such was the case for Francena Chalfont of Chadds Ford. The home she bought in 1997, she learned, dates back eight generations within her family.
Chalfont said evidence shows the house on Ridge Road was once a Swedish-owned trading post that became home to the first Chalfonts who came to America in 1699 during William Penn's second trip.
"[Lineage] became more important to me when I found out I was living in an ancestor's home," she said while preparing for a 310-year anniversary party for 30 family members Dec 13.
Chalfont said she and her former husband bought the house in 1997 to save on capital gains taxes after selling a house in Spokane, Wash.
She and her ex husband wound up moving to New York, but she still wanted a home in this area. Her brother was doing renovations on the N.C. Wyeth home, and she asked him to find "a fixer-upper" for tax purposes.
Ten months later is when she learned it was not a Victorian farmhouse, but an old log cabin that needed to be gutted. The plumbing, electricity and walls all had to be redone.
Then her husband at the time got a job offer to conduct an orchestra in Europe. Thinking she wouldn't need the house, she called a realtor to sell it.
Chalfont said the realtor told her she really had nothing to sell but history and land because everything had been ripped out. The realtor advised her to find out how old the house was so it could be sold as an historic structure.
Three months into her researching, Chalfont learned that a fire that burned down the old Chester County Courthouse also destroyed deeds so she would have to find old land grants.
"That's how I learned I had my own ancestors' house," she said. " There was the land grant to John Chalfont, my eighth back great grandfather."
That discovery came in 1999. But, there were others to come.
Chalfont thought that since the land grant was dated 1701, that that was when John Chalfont built the house – after he had lived on the property for two years as a squatter.
As part of her continued research into the structure, Chalfont took a plug from one of the logs used in the construction of the original part of the home. That original part was a two-story log structure that she wanted to renovate.
Carbon dating the log plug showed that the log stopped giving off carbon dioxide in 1660, meaning that was probably when the log was cut down.
She said there were other inconsistencies with the house and land grant information, in that the original structure was not of British design. Chalfont said people were telling her it appeared to be of Finnish or Swedish design.
Chalfont got in touch with the Swedish American Society and they feel, she said, that the original two-story log structure was an old Swedish design and was most likely used as a trading post for European settlers and the local Indians.
She said the northern boundary of Rockland Manor comes to a point right at the property. Rockland Manor was an income-producing property belonging to the William Penn family.
Chalfont said she learned Ridge Road, formerly named the Old Road, was a trading route at the tip of Rockland Manor and the trading post was roughly equidistant between two Indian villages, one near what is now Naaman's Creek Road and the other being the Weymouth property at Big Bend.
Also, according to Stephen Craig, of the Swedish American Society, the original part of the house had a storage area larger than what would be normal for just a home, and that there were both first and second floor doorways, also unusual for a just a home.
"The house is larger for a normal house of the time, but the right size for a trading post," she said.
The property stayed in the Chalfont family until sometime before March 1, 1767 when it was sold to Isaac Bullock. It stayed in the Bullock family until June 1881, according to Chalfont's research.
Chalfont hosted a family gathering Sunday, Dec. 13. She was planning for 30 relatives, some from as far away as Hawaii. One who lives a little closer is Vern Chalfont, from Atlanta Ga.
The discoveries are significant for him as well as for Francine Chalfont.
"We've done our research on the family history so we know our family line right back to the original immigrant, even back to England. So the fact that this is a house that he moved into brings home the heritage. Being here you feel a lot more part of what is now the United States," Vern Chalfont said. "[But] the fact that our family started here in 1699 doesn't make us any more American than somebody that started here in 1999."

Rich Schwartzman has been reporting on events in the greater Chadds Ford area since September 2001 when he became the founding editor of The Chadds Ford Post. In April 2009 he became managing editor of ChaddsFordLive. He is also an award-winning photographer.
Comments
comments