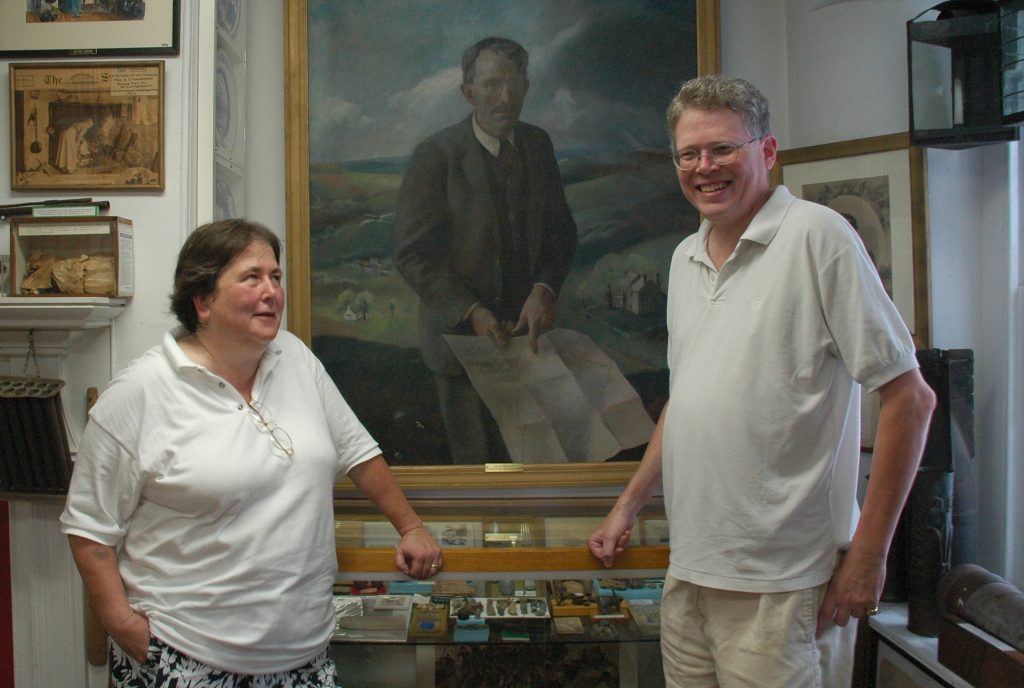 The day was decades in the making for a group of former students forever connected to Chadds Ford through the person of Chris Sanderson.
Those former students—now adults—attended the Booth School in Rosemont, Pa., a school that closed down in 1977.  But from 1944 to 1966, Sanderson, a musician, amateur historian and longtime Chadds Ford resident, taught square dancing at the school at the request of owner and headmistress Phoebe Barsby Booth.
Chip Lohmann, a member of the Sanderson Museum Board of Directors, was a student of Sanderson's at the school, as was Sandy Dechert, the granddaughter of the former headmistress.
The two planned a reunion of Booth School graduates for last Saturday, July 25. Dozens of former Booth students had a picnic on the grounds of the old school, now the site of the Hill Top School. They then came into Chadds Ford to tour the museum and have dinner at Brandywine Prime.
"Chris was friends with everybody, even those [my grandmother] didn't like," said Dechert who now lives in Chicago. "He brought out a person's individualism. He knew the name of every kid who doe-si-doed. He saw the human side of them."
Dechert said she does not know for certain how her grandmother and Sanderson became friends, but she theorized that they met during a time when Sanderson and his group, the Pocopson Valley Boys, were doing radio shows.
She said Sanderson started teaching at the Booth School sometime after 1944.
"He became 'the' square dance guy and local historian. He took kids for tours to Brandywine. He took us all over the battlefield and showed us all the stuff that's there. He took us to Gettysburg and told us all about the Devil's Den… He'd draw maps, hand-drawn maps," she said. "That's how we learned about local history."
Lohmann agrees that Booth hired Sanderson to teach square dancing, but Sanderson did more than that, Lohmann said. Sanderson was always showing musket balls and arrowheads he had found while living in Chadds Ford.
"He taught history between square dance lessons. The history lessons were informal," Lohmann said.
Lohmann's relationship with Sanderson went beyond the classroom. Lohmann recalled times when his parents would take Sanderson with the family on trips to Gettysburg.
"He'd take us to all the out of the way places," Lohmann said.
As did Dechert, Lohmann also remembered one of Sanderson's talents. He said that they would often stop at a restaurant on the way to Gettysburg and Sanderson would draw a map of parts of the battle area on the back of a place mat.

Rich Schwartzman has been reporting on events in the greater Chadds Ford area since September 2001 when he became the founding editor of The Chadds Ford Post. In April 2009 he became managing editor of ChaddsFordLive. He is also an award-winning photographer.
Comments
comments