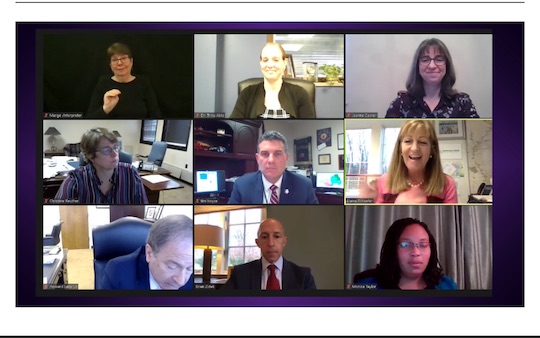 While saying they don't want to institute another lockdown, that was the veiled implication during a press conference with Delaware County officials, Thursday afternoon. County Council called the presser to discuss a spike in COVID-19 cases in the county.
"We really want to avoid a lockdown, and we're really pleading with everyone to help us avoid it," said Jeanne Casner, of the Chester County Health Department. (Delaware County has no health Department of its own and uses Chester County's department for help during the pandemic.)
"There's no timeline for instituting another lockdown from a health department standpoint," she continued. "We are trending high, but I think there's more that we can do locally without needing to go into a lockdown…Our goal is to avoid a lockdown."
Casner added that they know numbers will be high this fall and winter, but the idea is to stabilize them.
"We need to get to the stabilization part of this curve, and right now, our curve is just trending upwards," she said.
Brian Zidek, chairman of Delaware County Council, opened the streamed press conference by saying there has been an "alarming high spike" of COVID-19 cases in the county, the highest number since the pandemic took hold in the county in the spring. There were 214 new cases reported on Nov. 11.
"It's time we all start heeding the advice of public health officials or we face a situation that none of us want to be in, "Zidek said.
That advice continues to include wearing masks, staying home if you feel sick, and staying socially distant. For Council member Elaine Schaefer, it's about personal responsibility, including caution during the approaching holiday season. She cited a Washington Post story that said the increase in cases across the country stem from small, in-home gatherings that seem safe because the people are family and friends.
"And that is how this is spreading right now, exponentially," Schaefer said. "It's hard to hear that because that means your Thanksgiving can't be with extended family and that you can't travel to see your family, and that's what we all want to do. The answer [to what people can do] is to stay in your own bubble. And when you have to go out of your bubble of your immediate family, you've got to wear your mask, even if it's with your close friends or extended relatives. Keep your gatherings small…You can enjoy your holidays on Zoom."
She continued saying it's all about protecting family and loved ones because if hospitals are over-stressed, people won't get proper medical care.
Tim Boyce, director of Delaware County's Department of Emergency Services, said last weekend was the worst for cases. All hospitals on the county reached surge capacity, emergency rooms were overwhelmed, and many hospitals had to divert patients to other facilities.
At present, according to Council Vice Chair Monica Taylor, the county is "holding the course" with schools and not ordering they go back to virtual-only classes but is working with school districts in the county to make sure students and staff remain safe.

Rich Schwartzman has been reporting on events in the greater Chadds Ford area since September 2001 when he became the founding editor of The Chadds Ford Post. In April 2009 he became managing editor of ChaddsFordLive. He is also an award-winning photographer.
Comments
comments