Pennsylvania State Police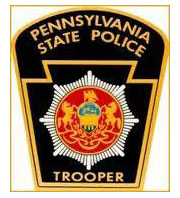 State police reported a rear-ender accident at Routes 1 and 202 in which the suspect driver fled the scene. The incident happened shortly before 6 p.m. on Oct. 26. The report said a 58-year-old woman from Delaware was stopped at the light in the southbound left lane of 202 when she was struck from behind. Police said the woman was not injured. The only description of the striking vehicle is that it's a dark-colored sedan.
• Police said they arrested Jack Taylor, 18, of Hockessin, on drug possession charges following a traffic stop in West Marlborough Township. Police stopped Taylor for traffic violations on Doe Run Road at 11:41 p.m. on Oct. 13, the report said, adding that they established probable cause for a search. That search led to finding unspecified drugs and drug paraphernalia.
• Maria Cisneros-Bedolla, 47, of Kennett Square, was arrested on retail theft charges on Oct. 16, a police report said. It happened at the East Marlborough Township Walmart. According to police, the suspect was altering price tags and under scanning items, stealing about $16.63 in value. Police later discovered that Cisneros-Bedolla had been doing the same thing since Sept. 19, stealing approximately $1,227.77, according to the report.
• Police are investigating the theft of some hunting equipment in Pennsbury Township. They said a trespasser stole the equipment, which included a compound bow — that the property owner had left behind. The theft took place on Oct. 24 on Stockford Road.
• A 23-year-old Kennett Square man is charged with making terroristic threats on Oct. 19 and 20. Police said the man — not identified in the report — asked a co-worker where his child's mother was living because he wanted to kill her. The mother already had an active Protection from Abuse Order out on the suspect, stemming from an incident a month earlier when he tried to strangle her, the report said.
• Police are investigating a retail theft at the East Marlborough Walmart that happened Sept. 29. Suspects are a white man and woman who rang out various pieces of electronic equipment using fraudulent bar codes. The couple fled the store in a green Mercury Mountaineer with a partial plate of LLC. The incident took place on Sept. 29, shortly after 3 p.m. The total sale price of the stolen merchandise is $150.

See Contributors Page https://chaddsfordlive.com/writers/
Comments
comments