Kennett Township supervisors will not yet make a decision about the future of EMS delivery in the township.
During a more-than 2.5-hour-long special meeting on Thursday, the supervisors voted 2-1 to table a decision for a month.
But the discussion itself prompted comments at the Kennett Borough meeting Monday night from both a borough council representative on the Kennett Fire and EMS Regional Commission and from the public itself, as well as lengthy discussions on some Kennett community Facebook pages surrounding the potential vote and its implications.
At issue is a recommendation that Kennett Township use Longwood Fire Company's EMS service for the entire township. Currently, Kennett Fire Company provides BLS, or Basic Life Support, service to township residents west of Bayard Road, and Longwood provides both BLS service east of Bayard Road and ALS, or Advanced Life Support, service to the entire township.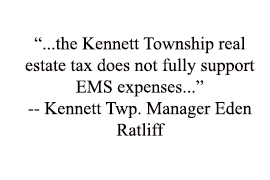 Both EMS services are part of the Kennett Fire and EMS Regional Commission.
EMS delivery in Kennett Township is an issue with a long history among Kennett and Longwood fire companies and the supervisors.
Under the second-class township code, the supervisors designate their fire and EMS providers each year during the reorganization meeting in January. Township Manager Eden Ratliff said in the special meeting that it was being brought up for discussion because "the Kennett Township real estate tax does not fully support EMS expenses" for 2021.
Kennett and Longwood fire companies, and their EMS services, are part of a regional fire and EMS commission that, among other things, sets funding requests from the six-member municipalities. For 2021, the commission is asking for a 15 percent increase across the board from Kennett Borough and the townships of Kennett, East Marlborough, Pocopson, Newlin, and Pennsbury.
Funding from each municipality is based on previous years' population, assessed value, and fire/rescue and EMS responses in that municipality. The 2021 funding requests are based on 2019 data.
In his presentation, Ratliff, a member of the commission, said the group had recommended the use of a single EMS provider but left the decision up to Kennett Township and Kennett Borough. Township Supervisor Scudder Stevens, who is also on the commission, said the commission's goal "has been and continues to be that the two service providers work together to find a way to overcome any of the inefficiencies that may, in fact, exist there."
Longwood Fire Company's EMS provides BLS and ALS service to the townships of East Marlborough, Pennsbury, Pocopson, and 60 percent of Newlin; BLS service to Kennett Township east of Bayard Road; and ALS service to all of Kennett Township and Kennett Borough.
Kennett Fire Company's EMS provides BLS service to Kennett Township west of Bayard Road, and to all of Kennett Borough.
At the special meeting, the first motion was to authorize Kennett Township to designate Longwood Fire Company as the primary EMS responder for the township. Supervisors' Vice Chairman Whitney Hoffman made the motion, and there was silence when Supervisors' Chairman Richard Leff asked for a second. After consulting with the township solicitor about his ability to second the motion, Leff did so.
Stevens then made a motion to table the first motion for three months. Hoffman moved to amend Stevens' motion and table discussion for a month. Since no supervisor seconded Stevens' motion, it couldn't be discussed further. Stevens seconded Hoffman's motion to delay discussion and a decision for a month.
"Looking at the impact on Kennett Borough and Kennett EMS and the impact on the community, I think it deserves a little more of a deep dig to properly reflect what is really going on," Stevens said.
Ratliff cautioned against delaying, saying that making a decision now would allow Longwood Fire Company to prepare for the change, Kennett Fire Company to look at the personnel changes, and Kennett's EMTs to have time to look for another job if necessary.
The vote to delay discussion and a decision for a vote was approved 2-1, with Leff voting against it.

Monica Thompson Fragale is a freelance reporter who spent her life dreaming of being in the newspaper business. That dream came true after college when she started working at The Kennett Paper and, years later The Reporter newspaper in Lansdale and other dailies. She turned to non-profit work after her first daughter was born and spent the next 13 years in that field. But while you can take the girl out of journalism, you can't take journalism out of the girl. Offers to freelance sparked the writing bug again started her fingers happily tapping away on the keyboard. Monica lives with her husband and two children in Kennett Square.
Comments
comments