This column usually focuses on regional art news, but I'd like to start this column by applauding the new presidential portraits unveiled this week. I know, I know, politics are not a subject to bring up in mixed company, but the art that memorializes the history of our country lives in a different realm and one that deserves of its' own reviews.
Former President Barack Obama and former First Lady, Michelle Obama have been commemorated with their own portraits which were introduced at the National Portrait Gallery in Washington, D.C. this week. President Obama's portrait, by Kehinde Wiley, will become a fixture among the other Presidential portraits in the National Gallery.
Created by renowned portrait artist Kehinde Wiley, the portrait creates an image of a pensive leader. He leans forward, casually but sternly, engaging with the audience. The floral background, a colorful and vibrant departure from the more muted tones of Presidential portraits past, includes homages to Kenya, Hawaii, and Chicago, all parts of the former Presidents heritage.
Amy Sherald, the portrait artist for Michelle Obama, hails from Baltimore. Her piece, the muted tones of which is offset by the bold and colorful geometric patterns of the former First Lady's gown, present a woman of grace and poise. The contemplative nature of her pose appears to respond directly to her husband's, which creates a bond between the two pieces. Regardless of political leanings, and from a strictly artistic perspective, I enjoyed the choice of portrait artists for this presidential couple. I admire the intention to break away from the more established, academic portraiture of the past, and celebrate a more contemporary style. The portraits of the first black President and First Lady were created by the first black artists commissioned for Presidential portraits--two historical milestones in one unveiling. I look forward to making my way to D.C. to see the portraits up close.
Now back to art in our area! There are a few events happening towards the end of the month including openings, closings, artists talks and interviews. Starting with Gallery 222 in Malvern which has resumed gallery hours after a winter hiatus. If you enjoy watercolors, stop by and check out the group show of Philadelphia Watercolor Society Board artists which runs through March 3. Artists include: Deena Ball, Anuradha Bhat, Dee Casner,  Cheryl Coniglio, Katherine Firpo, Jeanne Gunther, Diane Keesee, Madeleine Kelly, Donald Leong, Mick McAndrews, Wendy McClatchy, Jane McGovern, Bruce Poulterer, Al Richards, Cheryl Schlenker, Radhika Srinivas and Lena Thynell. Spring is on my mind as I noticed the light has just recently changed outside, I think watercolors. The light, translucent and ethereal elements of watercolor are a great way to usher in the hopeful, warmer spring light.
Church Street Gallery opens on February 16th with a new exhibition by  Helena Van Emmerick Finn. Her vibrant pastels have been exhibited at local galleries Station Gallery and Barbara Moore Fine Art Gallery. Stop by Church Street at 5 p.m. to enjoy the opening!
Coming up on February 21st, Delaware Contemporary hosts its next presentation in the ongoing artist talk series On Art featuring Maryanne Pollock. Pollock's mixed media, mono types and acrylics have been exhibited internationally in Paris, Cairo, London and Venice. She studied at Tyler School of Art, as well as Pennsylvania Academy of Fine Arts locally, among others. Pollock runs the gamut in color, style, and media. While her Mediterra series focuses on colorful geometric compositions, her Botanical series features softer floral patterns. Then, there are the mono types, some of which look downright Basquiatesque. Her acrylic series, Refuge, blends elements of all of these series together to create a personality all its own. I look forward to attending this talk to hear more on how her time living in Cairo influenced her work. ON ART: Conversation with the artist occur every Third Wednesday from 5:25 p.m. to 6 p.m.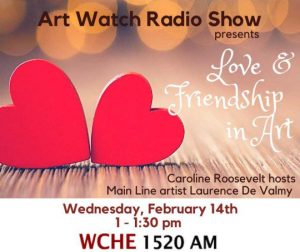 Finally, I absolutely am going to plug my interview tomorrow on WCHE 1520AM from 1 to 1:30 p.m. I will host mainline artist Laurence De Valmy as we present a Valentine's Day edition of Art Watch  "Love and Friendship in Art." We will discuss the famous artist relationships both romantic and platonic that have inspired iconic works of art. I will also have the opportunity speak with Laurence about her own impressive career as a painter. Please tune in!

Caroline​ ​Roosevelt​ ​is​ ​a​ ​writer​ ​and​ ​artist​ ​based​ ​in​ ​Kennett​ ​Square,​ ​PA.​ ​She​ ​received​ ​her​ ​B.A.​ ​in Art​ ​History​ ​from​ ​Connecticut​ ​College​ ​and​ ​a​ ​Post​ ​Baccalaureate​ ​certificate​ ​from​ ​Pennsylvania Academy​ ​of​ ​Fine​ ​Arts.​ ​She​ ​has​ ​previously​ ​written​ ​art​ ​coverage​ ​in​ ​Seattle,​ ​WA​ ​and​ ​Philadelphia, PA.​ ​She​ ​currently​ ​co-hosts​ ​Art​ ​Watch​ ​radio​ ​on​ ​1520​ ​WCHE.
Comments
comments