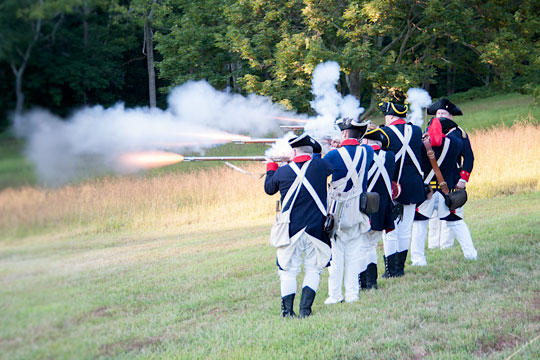 • Chadds Ford Days is this weekend, Sept. 10 and 11. The annual colonial fair is one of the major fundraising events for the Chadds Ford Historical Society, helping the society to maintain its historic properties such as the John Chad House and the Barns-Brinton House. The event offers fun activities from colonial demonstrations, tours of our historical homes, war re-enactors, local music and much more. There will also be more than 60 vendors from the area offering various items such as artisanal foods, craft beers, clothing, and handmade crafts. Relive history with family, friends and dogs right in Chadds Ford. Admission is $10 for adults; children and CFHS members are free.
• The 31st annual Kennett Square Mushroom Festival is Saturday and Sunday, Sept. 10 and 11. Enjoy your time in the Mushroom Capital of the World with tasty mushroom foods and mushroom-inspired art from nearly 250 vendors lining the mile-long Street Fair. New this year is the Amateur Mushroom Cook-Off, a qualifying event of the World Food Championships. The winner of the Amateur Mushroom Cook-Off will win a Golden Ticket to compete in the World Food Championships this November. Details, schedules, a brochure, and map are available on the Mushroom Festival website: www.mushroomfestival.org. For more information call 610-925-3373.
• The Sept. 11 ceremony at the Brandywine Battlefield Park begins at 6 p.m. Sunday, Sept. 11. There will be a Remembrance Prayer offered by the Rev. Marcos Almonte of Brandywine Baptist Church, comments from state Rep. Stephen Barrar, and a musket salute offering military honors to the fallen. Admission is free and there is plenty of free parking. The ceremony is in honor of both the Sept. 11, 1777, Battle of Brandywine and the terrorist attacks of Sept. 11, 2001.
• The National Iron & Steel Heritage Museum will once again host "Coatesville Remembers September 11." The museum is the trustee of the largest collection of World Trade Center steel artifacts from 9/11 outside of New York City. The program will be held on the grounds of the National Iron & Steel Heritage Museum, on South First Avenue and Business Route 30, from 1 to 2 p.m. There will also be bell-ringing during the hours of 8:30 to 10:30 a.m., to mark significant times during 9/11. Dan O'Deens, a 9/11 first responder, will keynote the rain-or-shine event, and area lawmakers are expected to address the audience. The Lukens Band will provide a musical backdrop, and the mansions will be open for tours during the day. Refreshments will be served courtesy of Wegmans.
• It's "Septemberfest" at Plantation Field from Sept. 15 through Sept. 18. The three-day event features 225 horse and rider teams — including 2016 Olympians from the U.S. and Canada. Events include dressage, jumping and a county fair. For more information and tickets, go to http://plantationfieldhorsetrials.com/index.php/attending-the-cic.
• Chadds Ford Gallery presents "Scarborough Days - Another Visit To Scarborough Fair," an exhibit of original art, signed limited and giclee editions available of Paul Scarborough. The exhibit's opening night is 5-8 p.m. on Friday, Sept. 16. It continues through Sunday, Oct. 2. There is no admission fee. Born in Delaware in 1944, Scarborough, a former draftsman and self-taught artist, died from melanoma on Feb. 2, 2014. His body of work covered decades, depicting his favorite spots in Chadds Ford, Wilmington and fishing with friends on the Delaware Bay. Those familiar with his art knew to look for a little red cardinal that he included in all his work.
• Sept. 24 is the day to put on your dancing shoes as the Sanderson Museum presents the Sanderson Square Dance at Thornbury Farm, 1256 Thornbury Road in West Chester. The doors open at 1 p.m. Music is by The Dixie demons. There will be live dance calling and a tour of the historic farm. The cost is $25 per family, $10 for adults and $5 for kids. Tickets are available at the door or online at www.thornburyfarmscsa.com or www.sandersonmuseum.org
• The Chester County Department of Drug and Alcohol Services in collaboration with Holcomb Behavioral Health Systems will host a free Narcotics Overdose and Prevention and Education Community presentation on Monday, Sept. 12, from 9 to 11 a.m. at the Chester County Government Services Center, located at 601 Westtown Road, West Chester, PA 19380 in the 3rd floor cafeteria. The session will include facts, statistics, and pertinent information to the current drug overdose epidemic; a panel discussion for questions will follow. For any questions, contact NOPE Chester County at 484-444-0412 or Dana.Rachko@holcombbhs.org.
• The first annual Westtown Day, a festival celebrating Westtown Township's past, present, and future, will be held Saturday, Sept. 17, from 10 a.m. to 2 p.m. at Oakbourne Park & Mansion (rain date is Sunday, Sept. 18). There will be games, Civil War re-enactors, great food, and music.  It is a day that is sure to have something for everyone.  Be sure to bring your family, friends, and neighbors, but please leave your pets at home; some activities, such as the firing of muskets and a petting zoo, could be disturbing to them.
• During the month of September, Mala Galleria in downtown Kennett Square will be donating 20 percent of the proceeds of all original paintings to The Kennett Flash. The artwork of Ellen Catanzaro will be featured for the month. The gallery is located at 206 E. State Street. The Kennett Flash is a nonprofit, performing-arts organization in downtown Kennett Square that operates an all-ages, stage-centered, café-style listening room showcasing professional national, regional, and local music, comedy and more.

See Contributors Page http://chaddsfordlive.com/writers/
Comments
comments