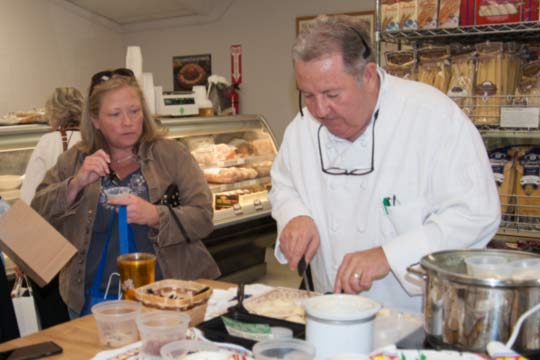 • Chef Anthony's Italian Market has announced its commitment to supporting Mommy Sue's Children, a grassroots effort to educate and empower underprivileged children in Haiti. The public is invited to kick off the campaign at a fundraiser on Wednesday, Oct. 14, from 7 to 9 p.m. at its store in Olde Ridge Village, 100 Ridge Rd., Chadds Ford. Tickets are $35 and will include hors-d'oeuvre and sweets. All of the proceeds will go to Mommy Sue's Children. For more information, visit www.mommysue.org or www.Chefanthonysitalianmarket.com (Top photo: Chef Anthony hands out some pumpkin ravioli during a Fall Festival at Olde Ridge Village on Sunday, Oct. 11.)
• The Great Pumpkin Carve returns to the Chadds Ford Historical Society on Thursday, Oct. 22. The event runs from 5 to 9 p.m. Thursday, Friday and Saturday, Oct. 22-24. Admission is $10 for adults, $5 for ages 7 to 17. It is free for society members and kids 6 and under.
• Later this month, the automated red light system is scheduled to be operational on Route 202. This system has been installed by Concord Township (at no cost to residents) on Baltimore Pike and will be extended down Route 202 from Oakland Road to Johnson Farm Lane. The intersections of Route 202 & Hillman Drive, and Route 202 & Applied Card will be upgraded as part of the Brandywine Mills project. The InSync system, developed by Rhythm Engineering, utilizes video detection cameras for each intersection approach that can determine how many vehicles are waiting in each lane, and how long they have been there. The system uses this information to decide which approach should receive a green light, and how long the green phase should last. The Concord Township traffic engineer will monitor the system. The system has been effective in moving the Route 1 traffic along, and officials are looking forward to its expansion onto Route 202, a press release said.
• The Crozer Cancer Project Team will host the third annual Care 2 Cure Walk/Run in Glen Mills on Oct. 24. The race will start at 8 a.m. at the Crozer-Keystone Cancer Center (500 Evergreen Drive in Glen Mills) with the runners and walkers able to enjoy either a 5K run or one-mile walk on a certified course that winds through the Shoppes at Brinton Lake. On-site registration will begin at 7:30 a.m. on Oct. 24. Proceeds from the race will benefit the Crozer Cancer Project Team, which is committed to ensuring that the Crozer Regional Cancer Center remains a comprehensive, leading edge provider of accessible, compassionate and state-of-the-art cancer care for patients in our region. To register for this event, visit http://crozer.kintera.org/CCPT2015. You will save time and money by registering prior to Oct. 9 with early registration only $25 for adults and $15 for children under 15. After Oct. 9, registration increases to $30 for adults and $20 for children under 15. For more details and sponsorship information, call 610-447-6311.
• Runners of all ages and abilities are invited to race through scenic and challenging terrain for Natural Lands Trust's second annual ChesLen Chase for Open Space. The race will be on Saturday, Oct. 24, at the 1,263-acre ChesLen Preserve in Unionville, Chester County. Choose among three courses — a 10K run, a 5K run, and a 2-mile run/walk — all of which traverse ChesLen Preserve's landscapes. Racers will enjoy a post-race party with food, drinks and live music. Event sponsor, Victory Brewing Company, will provide one free BBQ sandwich and one free beer (age 21 and older) to all participants. Additional sandwiches and beverages will be available for purchase from Victory's "Brew Pub on Wheels." Registration is $45 for the 10K race, $35 for the 5K race, and $25 for the 2-mile fun run/walk. Kids ages 12 and under are free but must be registered to participate. Learn more and register online at natlands.org/cheslenchase.
• Brandywine Ballet, Chester County's premier ballet company, is proud to announce its 2015 performances of "Carmina Burana" on Oct. 23-25, as well as the
"Carmina Burana Meet and Greet" on Oct. 25. Brandywine Ballet continues its residency this season at Emilie K. Asplundh Concert Hall, 700 S. High Street, West Chester. Individual tickets range from $25-$40. Tickets and a complete schedule are available by telephone at 610-696-2711 and on-line at www.brandywineballet.org.
• The Chester County Pops Orchestra, under the direction of Joseph Gehring, will perform its 2015 "Halloween Pops" concert series at: Valley Forge Middle School, 105 W. Walker Rd., Wayne, Pa., 19087, Oct. 24, 7 p.m.; Phoenixville Area Middle School, 386 City Line Ave., Phoenixville, 19460, Oct. 25, 3 p.m.; and Stetson Middle School, 1060 Wilmington Pike, West Chester, 19382, Oct. 27, 7 p.m. Titled "Halloween Magic," the Chesco Pops will perform Modest Mussorgsky's "Night on Bald Mountain," music from "Psycho" by Bernard Hermann, and John Williams' "Harry Potter Symphonic Suite." Children are encouraged to dress up and will be invited to join a costume parade. Tickets – $15 for adults; seniors (62+), $12; children and students free – can be purchased online and at the door. For more information, visit www.chescopops.org or call 610-594-9178.
• Darlington Arts Center in Concord Township is pleased to present a public exhibition of Chinese brush painting artwork by local artists from Josephine's Dancing Brush Studio. The exhibit opened with a reception on Saturday, Oct. 10 with over 50 attendees, who were able to meet the artists. The exhibit features over 50 works from local artists Susan Bevilacqua, Cynthia A. Candelaria, Lii Ying Chen, Jane Eppehimer, Marion Lai, Patricia Rahi, Florence Stiefeld, Josephine C. Tsai, and Winnie Zhang. Each piece explores traditional Chinese brush painting, a medium that requires special paints, handmade paper from natural materials and brushes made from animal hair. The exhibit is open through Oct. 27.
• The Brinton 1704 House is hosting a Halloween Open House from 1-5 p.m. on Saturday, Oct. 31. Enjoy games and treats during the special harvest-themed open house. Admission is $8 for adults and $5 for children. The house is at 21 Oakland Rd. in Chadds Ford Township, though it has a West Chester mailing address. For more information, phone 610-399-0913 or visit 1704house@brintonfamily.org
• The Unionville-Chadds Ford School District is hosting a clinic that allows pre-registration and same day registration for a flu vaccine. The clinic is open to the entire school community, including students, staff and families. It will be held in the high school cafeteria on Thursday, Oct. 22, from 2:30 to 6:30 p.m. For more details, visit http://ucfsd-community-news.blogspot.com/2015/10/flu-vaccines-at-uhs-october-22nd.html.
• The Chester County Historical Society is pleased to announce a technology pledge of $250,000 from Bentley Systems for the upcoming exhibition: "Chester County: A Place in History." The pledge will aid CCHS in developing interactive components for this exhibit such as touch screens, mobile tablets, handicapped-accessible devices, and multi-media devices. The new permanent exhibition will highlight CCHS's nationally recognized permanent collections and is scheduled to open in 2017.

See Contributors Page http://chaddsfordlive.com/writers/
Comments
comments