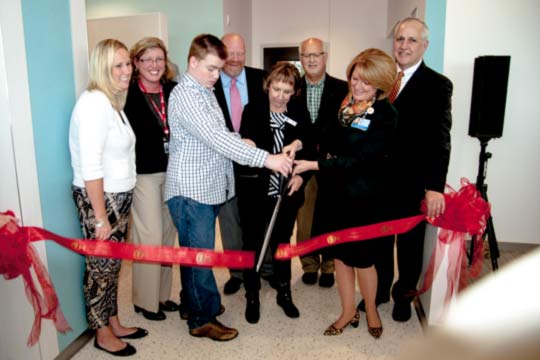 Children's Hospital of Philadelphia officially opened its new Concord Township facility with a ribbon-cutting ceremony on Oct. 6.
The new facility is a 44,000-square-foot Specialty Care & Ambulatory Surgery Center at the site of the former Ethan Allen store on Route 1 near Conchester Road.
More than 20 medical and surgical specialties can be handled at the center, including the ambulatory surgery that will enable same-day, close to home surgery without the young patients and their families needing to go into Philadelphia. Doctors from that main facility will come to the new location to work with patients, according to CHOP CEO Madeline Bell.
Bell also said the Concord Township supervisors were the most supportive she's encountered.
On hand and speaking were cousins: state Sen. Dominic F. Pileggi and Concord Township Supervisors' Chairman Dominic A. Pileggi.
The senator said the opening of the facility made it "a special day" because top quality health care is one of the factors that go into making a good community and that CHOP "is the finest institution of its kind in the world…and we have this facility in the middle of our community. That's a quantum leap forward for an already superior community."
Supervisor Pileggi, choosing a Star Trek metaphor, said the project was done at warp speed, but that it wasn't just Concord Township that made it happen.
"The CHOP team was one of the most cooperative teams that we ever dealt with. It's amazing that when you have two parties that are interested in seeing what can be done. If they would [cooperate like] that in Washington, we'd have a better country," he said.
Also speaking was neurologist Donna Stephenson, who is also the medical director at the center.
"CHOP has created something wonderful here," she said. It grew out of the smaller facility on Route 202 in Chadds Ford Township. "What we have here is a much larger more comprehensive center of excellence for multiple pediatric specialists. It's going to serve not only Concord Township, but Chester County, Delaware County, the state of Delaware, the state of New Jersey and even northeast Maryland."
Stephenson added that the center would also be having an urgent care center with extended hours.
The new center is one of 50 CHOP Care Network locations around Philadelphia.

Rich Schwartzman has been reporting on events in the greater Chadds Ford area since September 2001 when he became the founding editor of The Chadds Ford Post. In April 2009 he became managing editor of ChaddsFordLive. He is also an award-winning photographer.
Comments
comments