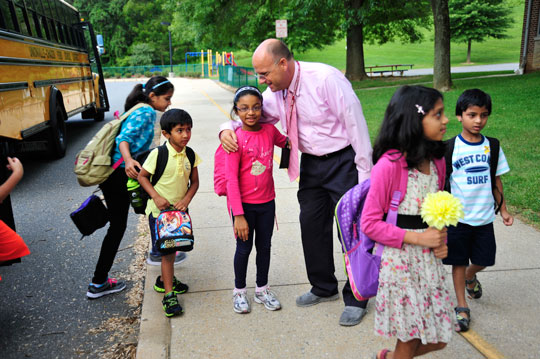 • It's back to school for the Unionville-Chadds Ford School District. Chadds Ford Elementary School Principal Mark Ransford, shown greeting students on the first day of the school year, said the staff and faculty at CFES are prepared for a great new academic year.
• Registration is open through early September for the KAU 2013 Fall Ball season. KAU's programs are open to students and residents of both the Kennett Consolidated and Unionville-Chadds Ford School Districts. Baseball programs are for boys and girls ages 6 through 18, while softball welcome girls ages 7 through 14. Registration and age group information may be found at www.kaulittleleague.org by using the program registration tab. Games will begin after Labor Day and finish around the end of October. For more information, please e-mail Matt Patterson at kauschedule@verizon.net for baseball ages 6 through 12, Mike Robinson at toriperry@msn.com for baseball ages 13 and over and Tracy Panati at tpanati@gmail.com for softball.
• The Brandywine River Museum is hosting a Conversation with Jamie Wyeth on Friday, Oct. 4, from 6 - 8:30 p.m. Enjoy a lively and informal conversation with Jamie Wyeth led by Museum Director Thomas Padon and Associate Curator Amanda C. Burdan, from 7:30 to 8:30 p.m. Cash bar with hors d'œuvres available for purchase. Galleries will remain open until 9 p.m., and the museum shop will be open until 7:30 p.m. This event benefits the School Access program, which supports visits for school and community groups. Tickets are $50 per person. Space is limited and advance reservations are required. Please call Rebecca Bucci at 610-388-8112 for tickets, which will be available beginning at 9:30 a.m. on Sept. 3.
• The Kennett Area Senior Center sponsors a Book Club session on Tuesday, Sept. 10 from 10 – 11 a.m. The Book Club meets on the second Tuesday of each month and is always looking for new members to join the group for stimulating and interesting discussions. They will be reviewing the book "Defending Jacob" by William Landay. Please contact Cindy Engle @610-444-3947 if you would be interested in joining the club.

See Contributors Page https://chaddsfordlive.com/writers/
Comments
comments